Rod Stewart is a seasoned showman with over six decades of experience and a fantastic catalogue of smash hits under his belt. Discover Rod Stewart's top 5 greatest concert setlists of all time.
Last Updated: 23/03/23 at 11:30 AM
Rod Stewart is one of the most renowned musicians of our time, with a career that spans over five decades. He has entertained audiences around the world with his unique voice, charismatic stage presence, meaningful and poetic lyrics, and unforgettable setlists.
His music, which blends rock, folk, and R&B, has earned him a place among the greatest musicians of all time. The legendary singer has sold over 250 million records worldwide and boasts over 30 iconic albums.
Throughout his career, Rod Stewart has been known for his amazing live performances and dynamic and diverse setlists, which have kept audiences captivated and coming back for more.
In this blog, we'll be exploring some of Rod Stewart's greatest concert setlists and the elements that make them so unforgettable. As well as how you can secure VIP tickets to his upcoming UK shows.
Explore Rod Stewart tour tickets
1. Songs and Visions - The Carlsberg Concert 1997
The 'Songs and Visions - The Carlsberg Concert 1997' was a landmark event in Rod Stewart's career. The concert was held in London and featured some of the world's biggest artists, such as Bon Jovi, Seal, and Robert Palmer.
The show marked the singer's return to the stage after an eight-month hiatus, his longest in seven years.
The setlist for the concert only consisted of nine songs, most of which were covers, but the audience was absolutely blown away as Stewart powered through hit after hit by some of music's most beloved artists.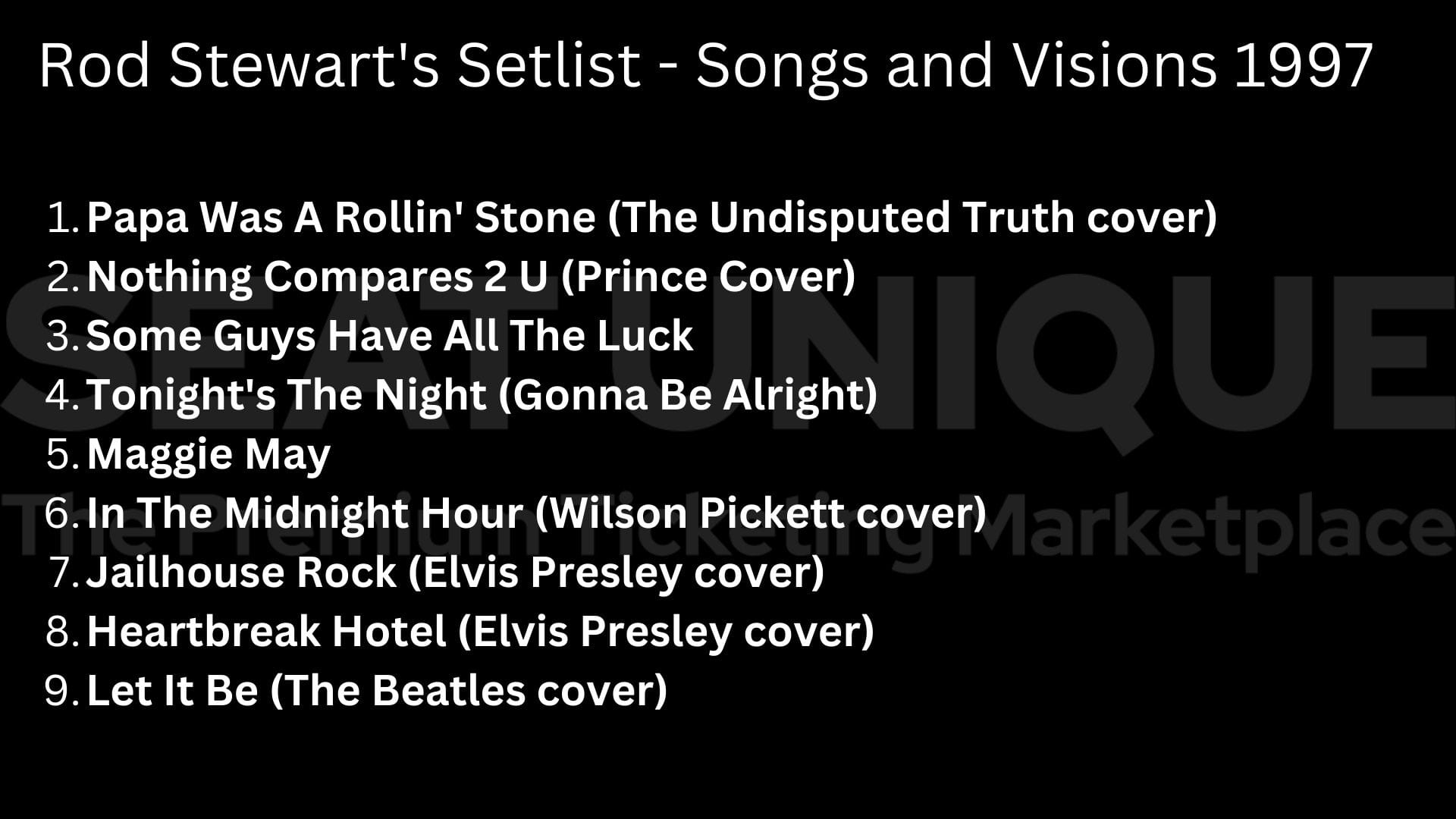 From the opening notes of Stewart's cover of 'Papa Was a Rollin' Stone' the audience was captivated, as the London-born singer then shot straight into Prince's 'Nothing Compares 2 U'.
Rod The Mod also performed some of his own tunes, including 'Maggie May' and 'Tonight's The Night (Gonna Be Alright)', before reeling off hits such as 'Jailhouse Rock' by Elvis, and 'Let It Be' by The Beatles, alongside special guest artists Jon Bon Jovi and Stevie Winwood.
2. Rod Stewart at The Hollywood Bowl, Featuring Jeff Beck - 2019
Rod Stewart's Hollywood Bowl reunion set with Jeff Beck in 2019 is no doubt one of his best-ever setlists. The highly anticipated event lived up to all expectations and brought together two of the biggest names in classic rock for a night of memorable hits and musical virtuosity.
The Hollywood Bowl provided the perfect setting for this reunion set, and the crowd was electrified from the start, as Rod Stewart took the stage and launched into a powerful rendition of his 1984 single, 'Infatuation'.
The setlist included all of Stewart's classic hits, such as 'Forever Young', 'Young Turks', 'Your In My Heart (The Final Acclaim)' and 'Maggie May'. As well as covers of Fleetwood Mac's 'Go Your Own Way', one of Stewart's favourite Faces tracks 'Stay With Me' and Marvin Gaye's 'It Takes Two'.
The big reunion came at the end of the set, with Jeff Beck joining Rod on stage for a mini set in the encore, it was the first time that the two had played together in over 10 years.
The two musicians worked seamlessly together, trading licks on classic Jeff Beck Group songs like 'Rock My Plimsoul' and 'Blues De Luxe' that had not been played live in 50 years.
In addition to the music, the concert was notable for the camaraderie between Stewart and Beck. The two musicians have a long history of collaboration, and it was clear that their friendship and mutual respect had only grown over the years.
3. Praia De Copacabana, Rio De Janeiro - 1994
Rod Stewart's concert at Praia de Copacabana in Rio de Janeiro in 1994 was the biggest and most impressive concert of the legendary rock singer's career. The concert was part of Stewart's massive 'A Night To Remember Tour', and attracted a world record audience of 3.5 million people.
The concert was notable for its stunning location on Praia de Copacabana. The beach was transformed into a massive concert venue, and the sound of the waves crashing in the background added an unforgettable ambiance to the event.
The setlist was stacked with huge hits and Rod was in top form, delivering powerful versions of classics like 'Maggie May', 'Baby Jane' and 'Hot Legs' as well as many more of his biggest anthems. The singer also added in covers of Chuck Berry's 'Sweet Little Rock & Roller' and Tom Waits 'Downtown Train'.
Stewart finished off the set with two covers of 'Mystifies Me' and 'Take A Look at The Guy' by his former Faces bandmate and Rolling Stones guitarist, Ronnie Wood. It was the only time he has ever played them live.
The crowd was electric, singing along to every song and cheering on the legendary singer. Stewart's distinctive voice and charismatic stage presence had the crowd in the palm of his hand.
4. Nokia Theatre Times Square - 2006
Rod Stewart's concert at the Nokia Theatre Times Square in 2006 was a night to remember for fans of the legendary rock singer. The concert was part of Stewart's 'Still the Same... Great Rock Classics of Our Time' tour.
The intimate setting of the Nokia Theatre allowed for a more personal experience, and the crowd was treated to a night of unforgettable music. Stewart's powerful voice and charismatic stage presence had the audience on their feet and singing along.
Sir Rod kicked off the set with a scorching performance of 'Have You Ever Seen The Rain' by Creedence Clearwater Revival, and then treated the audience to more great covers of songs by Cat Stevens, Bonnie Tyler, Van Morrison, and Bob Dylan.
Among the cover songs, Rod threw in some all-timer hits of his own including 'Hot Legs', 'Forever Young' and 'You're in My Heart (The Final Acclaim), before ending the set with a powerful performance of 'Maggie May'.
The show featured a magnificent blend of cover songs and Stewart's greatest hits and showcased his dynamic ability to cover a range of different musical styles.
5. Hard Rock Calling - 2011
Rod Stewart's concert set at Hard Rock Calling 2011 was a seriously impressive hit-filled performance and featured a very special guest to cap it all off. The festival was held in London's iconic Hyde Park and was attended by thousands of rock music lovers from around the world.
Stewart took to the stage with his signature swagger, dressed in his trademark tight pants and sporting his signature hairstyle, opening his set with a high-energy performance of 'Love Train' by the O'Jays.
Stewart then played wall-to-wall rock and roll classics for the rest of his performance, with highlights including 'Baby Jane', 'Young Turks', 'Every Picture Tells a Story', Handbags and Gladrags, and a fantastic rendition of Elmore James' 'Shake Your Moneymaker'.
The main highlight of the show was a guest appearance from Stewart's former Faces band member and Rolling Stones guitarist Ronnie Wood, who joined Rod The Mod on stage for The performance of 'Maggie May' and 'Stay With Me'.
Stewart's energetic performance, combined with the stunning setting of Hyde Park and the warm summer weather, made for a truly unforgettable night. Stewart interacted extensively with the audience, telling stories and jokes, and even inviting a young girl on stage to sing along with him.
How Can I Get Watch Rod Stewart Live and in Style?
Rod Stewart has one of the most impressive catalogues of smash hit songs of any artist on the planet, and his extensive performance experience and fantastic showmanship make his concerts a truly unmissable spectacle.
Rod The Mod has just revealed that he will be touring in 2023 and demand for tickets is expected to be extremely high, as his army of loyal fans will flock to see him perform once again.
Stewart has also announced that Culture Club will join him as special guests for all of his blockbuster summer 2023 shows. The English pop icons, fronted by Boy George, will join Sir Rod on stage for six nights of huge classic rock, pop, and soul hits, including 'Everything I Own' and 'Do You Really Want To Hurt Me'.
If you are a big fan, why not take your concert experience to luxurious new levels with a VIP hospitality experience from Seat Unique?
With a VIP hospitality package, you can take your concert experience to fantastic new levels, and benefit from a whole host of luxury inclusions, such as*:
Premium seating
VIP merchandise
VIP commemorative laminate & lanyard
Crowd free shopping
Priority check-in, VIP fast-track lane into the venue
VIP host and event staff available to ensure a smooth concert experience
*Inclusions vary by date, venue and package
Rod Stewart tickets are on sale now.
For more information about the upcoming Rod Stewart 2023 tour, as well as the ultimate fans guide to attending a Rod Stewart concert, check out our blogs.
Buy Rod Stewart VIP tickets