Michael McIntyre is one of the biggest and most popular comedians in the world, known for his conservative and observational comedy style. Here, we take a look at the tour that started his meteoric rise to the top of the comedy industry.
Last updated: 20/02/2023 at 10 am
Beloved British Comedian Michael McIntyre has been entertaining audiences for over two decades with his unique brand of conservative and observational humour.
From his early days as a stand-up comic to his hugely popular BBC television shows, Michael has established himself as one of the most beloved comedians in the UK with his relatable and charming personality.
McIntyre's stand-up shows are renowned for their humour and energy, and he has toured extensively across the UK and internationally, selling out arenas and theatres. His first UK tour broke several records, as he performed for an estimated 500,000 people in total.
The London-born funny man was the highest grossing comedian in the world in 2012 and is also the youngest ever host of the Royal Variety. He is also a best-selling author and has hosted several popular TV shows, including 'Michael McIntyre's Big Show' on BBC One.
In this blog, we will take a closer look at the tour that put Michael McIntyre on the map, and how you can secure VIP tickets to his 2023 'Macnificent' Tour.
Buy Michael McIntyre VIP tickets
Michael McIntyre's Comedy Style
Michael McIntyre's comedy style is characterised by his observational humour and charming delivery.
He draws material from everyday life and personal experiences, making his comedy relatable and entertaining to a wide audience. His humour is light-hearted and energetic, often featuring witty one-liners and physical gags.
He is known for his distinctive laugh and has become famous for his ability to make audiences laugh out loud with his quick wit and clever storytelling.
He rarely uses vulgar language or profanity, setting him apart from many other comedians and making him more appealing to a more mainstream audience.
The 'Live and Laughing' Tour
Michael McIntyre's 'Live and Laughing' tour was a comedy tour that took place across the United Kingdom from 2008 to 2009.
McIntyre performed in front of sold-out crowds in cities across the UK including Manchester and Edinburgh, and a record-breaking 10 nights in London.
The tour was a critical and commercial success and was later released as a DVD, which has gone on to become the highest-selling debut stand-up DVD of all time in the UK.
'Live and Laughing' was a landmark moment in McIntyre's career, helping to establish him as a major player in the world of comedy, and setting the stage for future tours and performances.
Best Jokes From The 'Live and Laughing' Tour
Here are our favourite jokes, anecdotes and quips from Michael McIntyre's 'Live and Laughing' tour that are guaranteed to give you a good laugh!
Strange Things Men Do
Michael has the crowd in stitches with his fantastically hilarious and insightful look into the often bizarre and confusing behaviour of men, touching on topics such as man caves, car maintenance, and fashion choices.
With his trademark wit and humour, McIntyre takes the audience on a journey of discovery, exploring the strange and often irrational things that men do.
The Man Drawer
This simple but hilarious comedy routine performed by McIntyre pokes fun at the mysterious and often cluttered drawers that many men have in their homes. The routine explores the contents of these drawers, from random screws and batteries to forgotten gadgets and sentimental things.
McIntyre brings the audience on a tour through the contents of the 'Man Drawer' painting a picture of the strange and often comical things that men keep in these mysterious spaces. The routine is a hilarious and relatable take on the quirks and peculiarities of the average man.
Things We Do When Nobody's Looking
In this brilliant sketch, McIntyre takes a humorous look at the peculiar and silly things that people do when they think no one is watching. The routine looks at the behaviour of people in a variety of everyday situations, from singing in the car to dancing in the privacy of their own homes.
With his sharp wit and infectious energy, McIntyre brings these silly moments to life, making the audience laugh and reminisce about their own quirky habits, leaving the audience in stitches.
Legacy of The 'Live and Laughing' Tour
Michael McIntyre's 'Live and Laughing' tour is considered a defining moment in his career and the establishment of his reputation as one of the UK's top comedians.
It is remembered as the tour that showcased McIntyre's unique style of observational humour, physical comedy, and quick wit, and as a moment when he cemented his place as a major player in the world of comedy.
The success of 'Live and Laughing' also had a lasting impact on McIntyre's career, paving the way for more tours, TV appearances, and opportunities.
The tour's massive success as a DVD release allowed millions of fans to relive the laughter from the comfort of their own homes, further expanding McIntyre's popularity.
Michael McIntyre's 'Live and Laughing' tour is one of a raw and original comedian at the top of his game, entertaining audiences with his humour and leaving a lasting impact on the world of comedy.
Impact of The Tour on Michael's Career
The 'Live and Laughing' tour brought Michael McIntyre right to the forefront of the comedy sphere and completely transformed his career, helping him to become the global comedy icon that he is today.
The success of the tour on both commercial and critical fronts helped the London-born comedian to raise his profile and reach a wider audience.
Off the back of the tour McIntyre was offered numerous television appearances and over time became a household name, propelling him to the forefront of the UK comedy scene and helping to establish him as one of the country's most popular comedians.
Career Highlights Since The Tour
Since completing his 'Live and Laughing' tour, Michael McIntyre has gone on to become one of the most popular comedians on the planet, also expanding his career to reality show judging and television and radio hosting. Some of his career highlights include:
BBC Radio 2 Show: In 2009, McIntyre started hosting his own show on BBC Radio 2, which was well received by audiences and helped to further increase his popularity.
'Michael McIntyre's Comedy Roadshow': In 2009, McIntyre hosted the BBC One TV show 'Michael McIntyre's Comedy Roadshow', which helped to showcase some of the best up-and-coming comedians in the UK.
Youngest Ever host of the Royal Variety: In 2010, shortly after his 2009 'Live and Laughing' tour, McIntyre was announced as the official host of the event, making him the youngest ever host in Royal Variety history. He went on to perform at the event another two times.
Britain's Got Talent Judge: In 2010 it was announced that Michael McIntyre would be one of the three judges on the 2011 series of Britain's Got Talent, alongside David Hasselhoff and Amanda Holden.
'Michael McIntyre: Happy & Glorious': In 2015, McIntyre embarked on a nationwide tour, 'Michael McIntyre: Happy & Glorious', which was one of the highest-grossing comedy tours of all time in the UK.
'Michael McIntyre's Big Show': In 2016, McIntyre started hosting the popular BBC One TV show 'Michael McIntyre's Big Show', which features a mix of comedy sketches, celebrity interviews, and live performances.
McIntyre's talent, popularity, and impact on the entertainment industry have helped him to achieve an illustrious career as one of the most successful comedians of his generation.
How Can I Get Michael McIntyre VIP Tickets to His 2023 'Macnificent' UK Tour?
Michael McIntyre has just announced that he'll be hitting the road on his 'Macnificent' 2023 world tour across the UK, Ireland, North America, Norway, Australia, New Zealand and Singapore.
Tickets to see the renowned comedian live are expected to be in high demand. Why not skip out on the hassle of fighting for VIP tickets, and opt for a more luxurious comedy experience with a VIP hospitality package?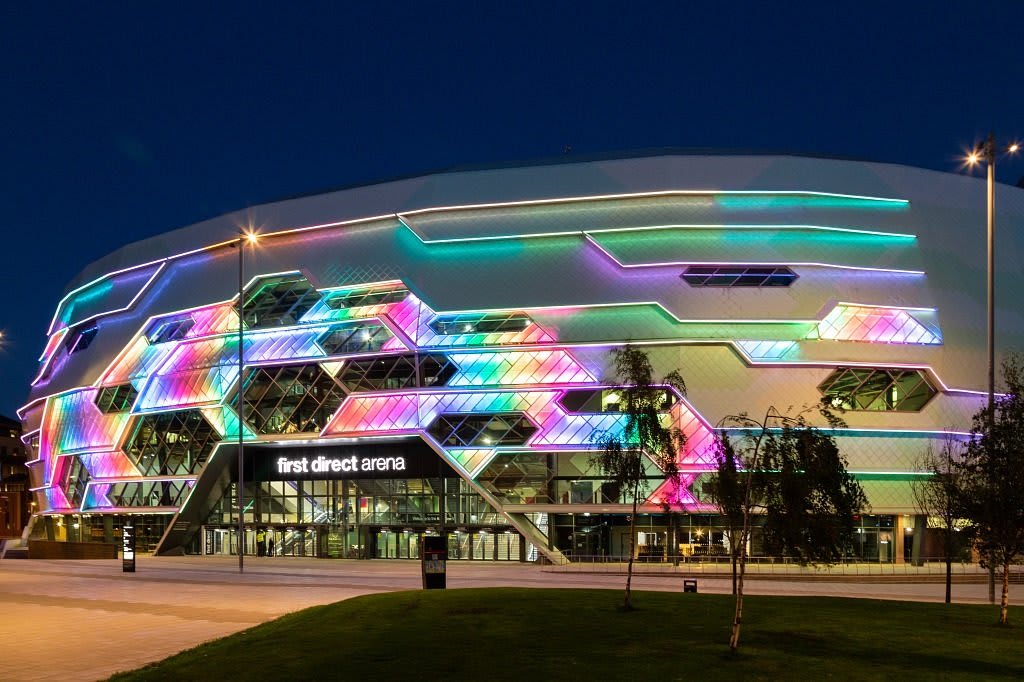 Seat Unique is delighted to extend fans access to VIP tickets and hospitality packages to Michael McIntyre's shows at AO Arena, Manchester, Utilita Arena, Birmingham and First Direct Arena, Leeds.
With a VIP hospitality package from Seat Unique, you will benefit from a whole host of luxury perks, such as*:
Premium seating with unrivalled views of the stage.
VIP entry and exit from the venue.
Welcome drink on arrival.
Complimentary drinks.
A selection of delicious freshly cooked meals.
Access to private VIP lounges.
*Inclusions will vary depending on venue and choice of package.
Tickets for Michael McIntyre's 2023 shows are on sale now. Secure your tickets now for a fantastic night of side splitting comedy.
Buy Michael McIntyre VIP tickets