We are the premium ticketing marketplace helping clubs and venues digitalise sales and boost revenue with our innovative tech solutions.
Is your club or venue losing revenue to touts? Are outdated, costly and time-consuming booking processes ruining your customer experience?
At Seat Unique, we have built a platform that addresses the industry's key issues: lack of fan access to VIP experiences and the inability to book hospitality tickets via a 24/7 online service.
We recognise that clubs and venues may not have the budget or resources to build the technology that's required to develop their own online sales channel. That's why we offer a white-label software solution that enables official suppliers to list and manage their inventory online.
We are the premium ticketing marketplace digitalising the corporate hospitality industry to open up VIP access to all while helping official hospitality providers take back control. Find out more about our white label and tech offering and how it can help boost your hospitality sales below.
What are Seat Unique's white-label and tech product offerings?
We are experts in digital transformation. We help clubs and venues digitalise booking processes with a white label site that has been designed, tested and built for hospitality and premium ticket sales.  
Our innovative technology allows clubs and venue partners to manage their hospitality inventory in one user-friendly interface, all of which can be purchased by fans 24/7 via the Seat Unique platform.
Not only does this increase fan access to premium experiences, but it also gives our partners greater flexibility and control over their hospitality sales.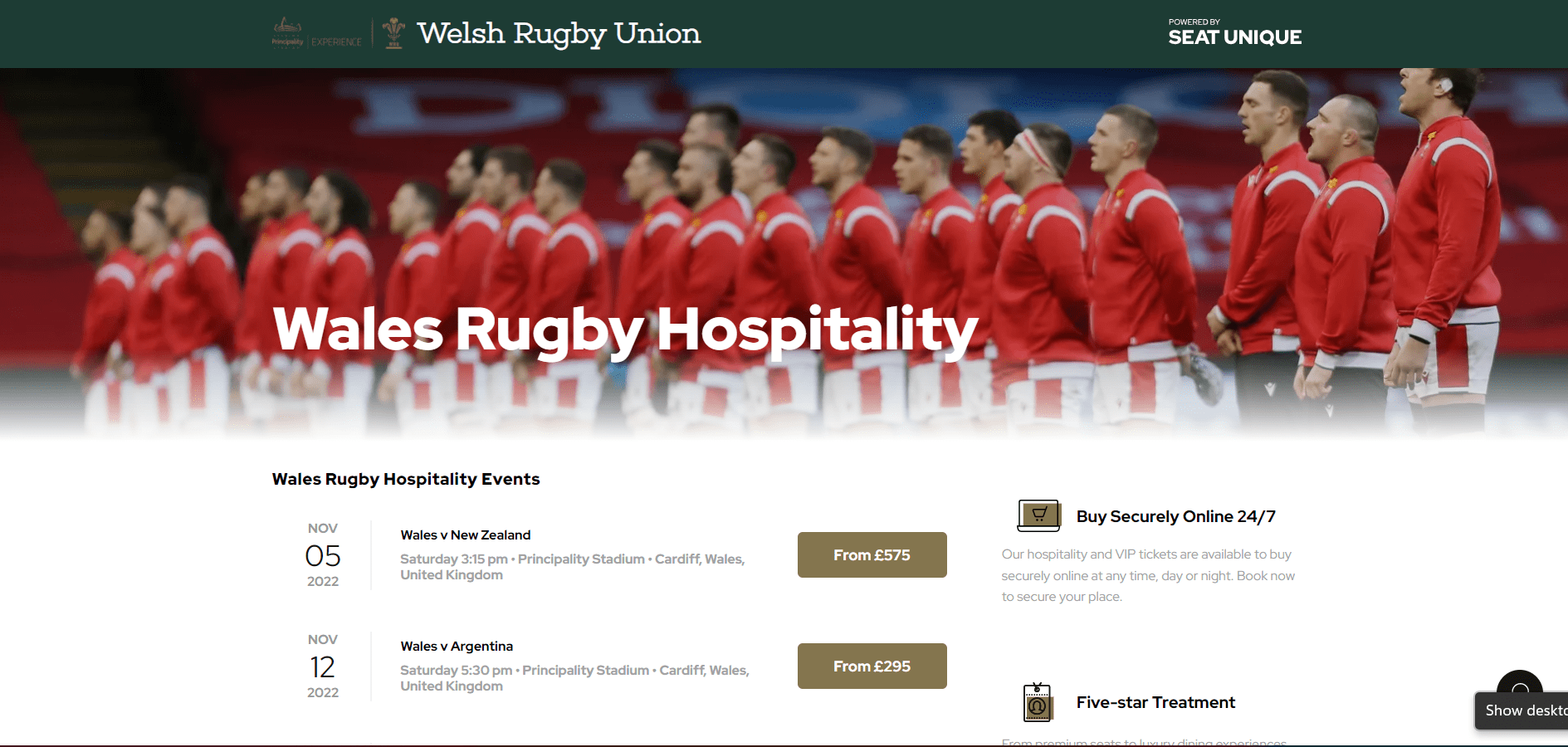 Our white-label websites are designed with the customer in mind. Buyers can easily compare packages by inclusions and price all in one place, in a side-by-side view. This enhances the customer journey and empowers customers with greater control over their purchasing decisions.    
E-commerce sales have been growing at a rapid rate for some time now. As a result, they are steadily replacing traditional buying and selling methods. This means the hospitality and live events industries need to adapt quickly to survive in the market.  
By bringing hospitality sales online, we can meet the demands of the consumer and help clubs and venues stay relevant in the market. Having an optimised buyer flow is a vital aspect of increasing conversions.
A poor buyer flow can ruin the customer experience and consequently lose a sale. To avoid this, we've implemented a 4-click buyer flow on our white label sites to ensure that every transaction made on our platform is safe, secure and seamless.
We also use special technology to allow our site to continue to perform well at peak times and with high traffic volumes. On top of this, we off our partners' additional white label digital marketing services which include:
Price optimisation
Search Engine Optimisation (SEO)
Pay Per Click (PPC)
Social media marketing
Ongoing website development
Content marketing
What are the benefits of having a Seat Unique white-label website?
Are you still concerned about the cost-effectiveness of a white label site? Think that having your club or venue's name on a third-party site isn't essential?
Then let us explain the financial beneficial impact that Seat Unique's white label website solutions can have on your club or venue's hospitality sales.
Boosts the visibility of your products
By digitally transforming offline booking systems, we're bringing visibility to an otherwise unseen product. Our white label website solution helps your club or venue target the B2C market by making VIP experiences more accessible to wider audience demographics.
We have our finger on the pulse of the latest technology and hospitality trends. This means that we can help our partners get the most out of their white-label sites and promote their products effectively.
We can capture immersive virtual tours of your club or venue's hospitality facilities. By capturing a 3D tour, you can give customers the option of viewing your hospitality facilities virtually through our high-quality platform.
Increases revenues
Our software enables you to get hospitality packages and premium tickets online without expenditure. It also allows you to benefit from several acquisition channels.
Our digital marketing services open up new revenue streams for your club. For instance, our in-house SEO Content Marketing experts will optimise your white label site for search and create a tailored content plan to help boost organic sales.
The wider marketing team will craft PPC campaigns, social media posts and email marketing campaigns dedicated to promoting your products to increase conversions.
Our innovative software enables clubs and venues to sell hospitality tickets to fans securely online, turning on your sales channel 24 hours a day, 7 days a week.
Allows you to take back control
We're helping rightsholders take back control of a market that has been, and is, out of control. We're helping clubs, venues and artists by promoting awareness of premium experiences, and educating fans that hospitality isn't solely reserved for the ultra-rich. It is accessible to all.
We also help our partners with price optimisation and revenue management. Dynamic pricing works for both sides of the transaction. Using data from customers and the market to find the most effective price point for your product will maximise your sales or profitability.
It allows your club or venue to stay competitive in the market and drive customers in your direction. White labelling is a solution to help reduce risks and increase liquidity in the market.
Builds trust & community
Our focus is to build a community of event partners and buyers so that we are known for a simple, trusted experience which connects fans, clubs, venues and artists in a way in which everyone is a winner.
If you choose to work with Seat Unique, you will be part of a community of high-profile suppliers. Through technology, we are able to give fans easy access to premium experiences at a range of events in an aggregated space.
This helps us on our mission to become the go-to place for fans seeking safe, secure and guaranteed premium access to live events. Using both brand names also encourages customers to purchase the official product directly from the source.
Ensures you stay ahead of the latest tech trends
Our dedicated web development team make constant updates to continuously improve your white-label website, and stay ahead of the latest tech advancements.
Staying up to date with the latest trends enables us to prepare and adapt to customer demands, constantly improve the customer experience and increase our relevancy.
This also allows us to deliver effective, high quality and high functional products to our partners that consistently deliver value.
Gives your customers a new booking experience
Our white label sites are optimised to allow customers to purchase hospitality packages, premium tickets and private boxes in just four clicks.
By making hospitality bookable online via mobile, tablet and desktop devices, it's quicker and easier for customers to purchase our partners' packages. And our partners have a better chance of converting a sale as customers can book VIP experiences anytime and anywhere, 24 hours a day, 7 days a week.
To further ensure that our customers enjoy a better buying experience, we have implemented Google and Apple Pay. This fuss-free payment method allows them to make purchases on their mobile device with a simple tap.  
Customers don't need to pay extra transaction fees when they use Google and Apple Pay to make purchases on our site. It's a safer, more secure and modern way to buy hospitality online, that further helps us digitalise all aspects of the booking process.
Why working with Seat Unique is different
At Seat Unique, it's our mission to create a safe space in which customers are guaranteed access to the best packages at the best possible price. Therefore, we choose to work only with clubs and venues directly to ensure all packages available on our platform are 100% official.
We're also equally committed to creating a safe space for our partners. That's why we've created a platform that gives them greater control over their inventory and pricing. Not only do our innovative tech solutions help increase vital hospitality sales for our partners, but it is also comparably affordable in the market.    
We also work hard to dispel the myths that hospitality and VIP experiences are reserved for the ultra-rich and corporates. It's our mission to make premium tickets and hospitality packages accessible to everyone. Many 'sold-out events' have affordable hospitality spaces available, yet many fans aren't aware of this.
Our platform allows fans to find and purchase these unique experiences, which means we can reach even wider audiences for our partners.
To learn even more about the products and services we offer and the benefits of partnering with us, download the informative PDF below.
If you are an official rightsholder, artist, promoter or venue, and would like to discuss joining our community, we would love to hear from you.
Enquire about working with Seat Unique
Find out how we helped our partners Yorkshire County Cricket Club achieve an 80% first-time buyer uplift by reading our case study with The Ticketing Buisness!