We help you decide which Silverstone hospitality package best suits you and your guest's needs, including two-day and three-day options.
Imagine the roaring engines, the electrifying atmosphere, and the thrill of the race as you prepare for the 2024 British Grand Prix at the iconic Silverstone Circuit.
Our comprehensive guide is your key to unlocking this exhilarating event. We're here to take you on an exciting journey, helping you make the crucial decisions about your ideal hospitality package for you and your guests.
Whether you're a die-hard F1 fan, a first-time attendee, or surprising a loved one, we've got you covered. From the best vantage points to savour the fast-paced action to the luxurious amenities that will make your race day truly special, our guide provides all the insights you need.
Join us as we explore the options, unveil the hidden gems, and ensure you're fully prepared to make the most of next year's British Grand Prix.
Explore all Silverstone hospitality packages
What date is the British Grand Prix 2024?
The 2024 British Grand Prix will take place from 4th-7th July. The race will be the 12th round of the season and will form the second race of a double-header with the Austrian Grand Prix.
Where in the UK is Silverstone Circuit?
The Silverstone racetrack is located just south of the town of Silverstone, England, near Northampton.
Its location puts it in a slightly remote place, so getting to the track isn't always so easy - especially on race weekends.
There are public transport options that will take you right up to the front door, but it can be a tricky one to get to if you plan on going by car.
For helpful tips on how to get to the circuit, as well as tips on staying nearby and your best options for how to watch, check out our Tips on How to Prepare for Silverstone.
What is the Silverstone circuit like?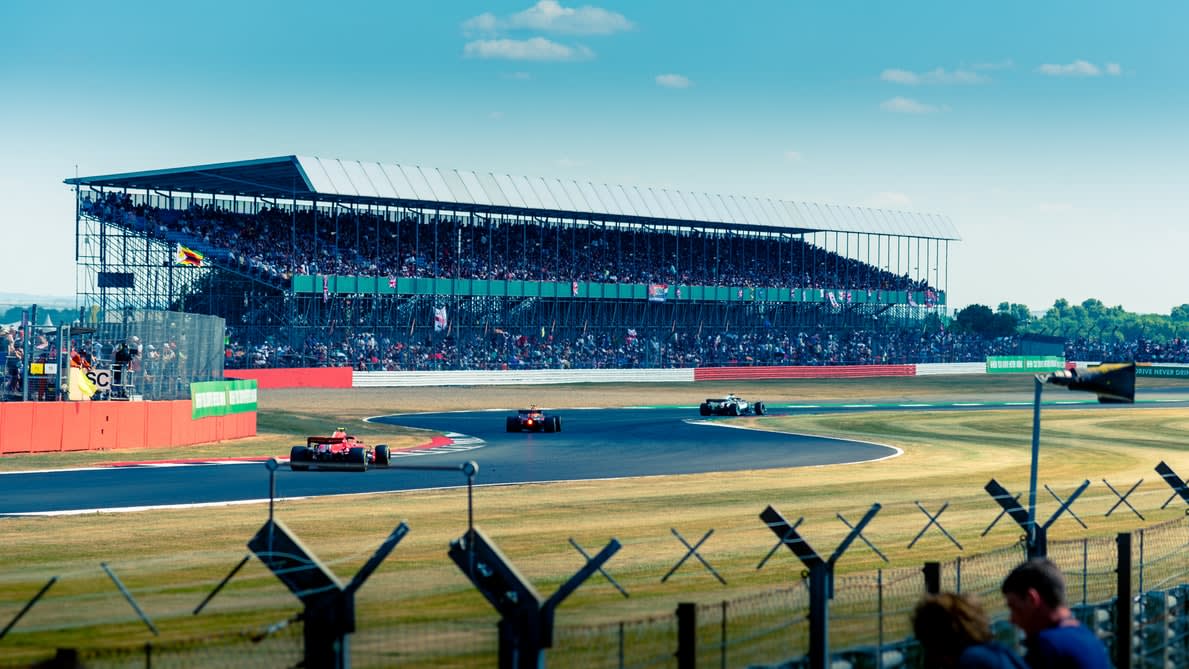 As the first venue to host a Formula One World Championship event, Silverstone has continued to maintain its status as one of the greatest tracks in F1 history.
Built on the site of an RAF bomber station, Silverstone is a technical track that has seen many developments over the years in response to F1 rule changes.
The track is notorious for its speed as its long full-throttle straights and lack of slow corners set it apart from other tracks in the Grand Prix.
Reaped in history, Silverstone promises great fast-paced action so, why not watch the races with the best views in the house?
What does Silverstone hospitality include?
With an official F1 Silverstone hospitality package, you will enjoy the Grand Prix with the best views of the racing action. All your needs will be met as you indulge in the finest complimentary refreshments throughout the day.
Depending on which package you choose, you will get to the heart of the F1 action with VIP benefits including Pit Lane tours, simulator experiences, and driver appearances.
Keep reading to find out more about the F1 Silverstone experiences on offer and the inclusions that come with each package.
Octane Terrace Package: the best for big groups
With the Octane Terrace package, you will enjoy inner track views alongside Hangar Straight in front of a DSR zone to witness the F1 velocity.
This Saturday & Sunday package includes a ticket providing inner track access and grants you the privilege of experiencing elevated grandstand views.
Additionally, you can revel in an all-inclusive festival atmosphere with an array of delightful food options from artisan traders, exciting BBQ demos, and open kitchens.
What's more, a complimentary bar awaits you, offering a wide range of beverages, from beer and wine to cocktails and soft drinks.
To make your experience even more immersive, racing simulators and giant screens will be set up for race viewing, ensuring you don't miss a moment of the action.
And to stay updated on all the details, you'll have your own personal Silverstone radio. This package is perfect for larger groups, as it offers a more informal experience with unreserved seating and stretch tents.
Book Silverstone Octane Terrace hospitality
Ignition Club Package: the best for immersive experiences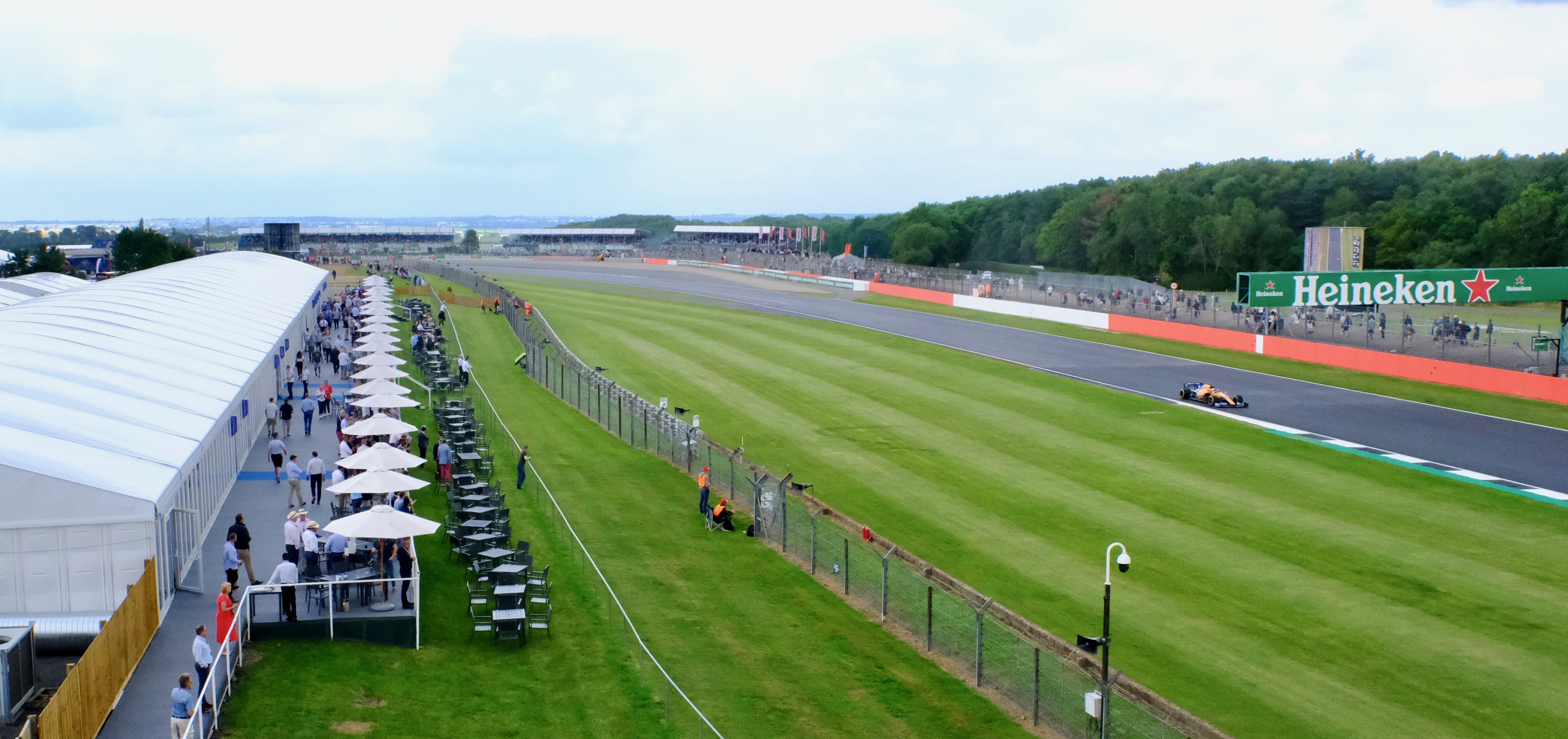 This package is perfect for those who want to get even closer to the racing action. With exceptional views from an extended outdoor terrace, you'll overlook famous corners and find yourself immersed in the heart of the races from the Ignition Club grandstand, which offers stunning vistas overlooking six racing corners.
As part of this premium experience, you'll enjoy an all-day celebration of fine cuisine with an exquisite grazing menu, complemented by a premium bar service that includes complimentary wines, beers, soft drinks, and free-flowing Champagne.
Formula One enthusiasts will be thrilled by the insight gained from guest speaker talks and the excitement of interactive motorsport and vehicle displays.
In addition, a Super Screen will be set up for your viewing pleasure, ensuring you don't miss a moment of the thrilling action. For those who want to take home a piece of the excitement, there's also an exclusive merchandise shop available.
Private tables are available for 8-12 guests, with smaller numbers comfortably accommodated on shared tables.
Book Silverstone Ignition Club hospitality
Fusion Lounge Package: the best for opulence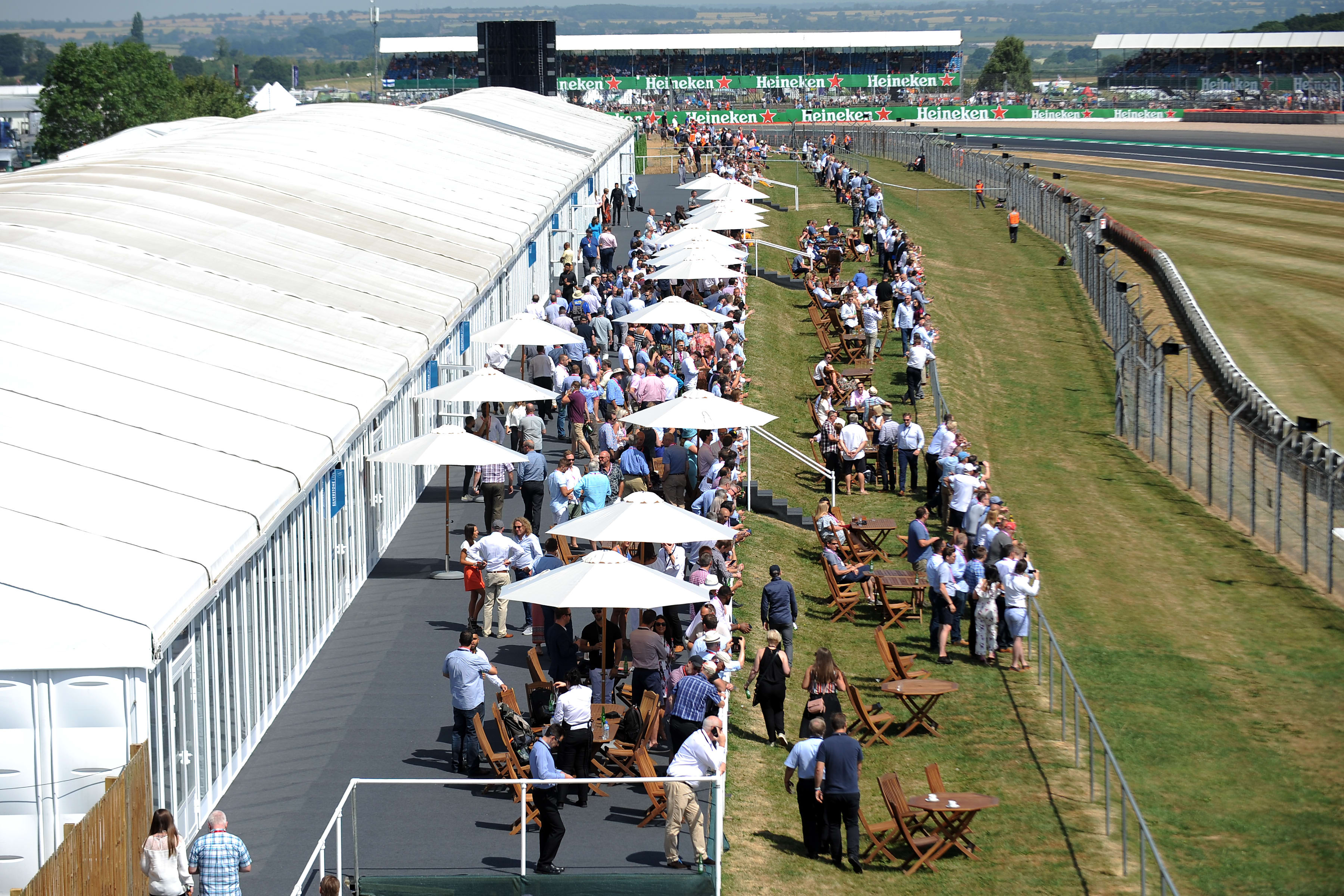 Elevate your Grand Prix experience with the Fusion Lounge hospitality package, where luxury and excitement meet.
With this luxurious Silverstone experience, you will enjoy trackside views, live entertainment, and a cocktail bar at the Garden Terrace, complemented by a complimentary bar offering unlimited champagne, signature cocktails, wines, and premium spirits.
Plus, your palate will be satisfied with an all-day culinary journey from interactive chef stations, and catch every race moment from the grandstand overlooking the Vale corner.
Experience VIP treatment at your private table for 2 or more, with giant viewing screens, art exhibitions, and supercar displays to explore in between races. Stay informed with a personal Silverstone radio and the official F1™ program.
Additionally, you can opt for helicopter or chauffeur transfer services for an extra fee to enjoy elite transportation, and reserved parking is also available for added convenience.
Choose from one-day or three-day packages to suit your schedule and make the most of your Grand Prix adventure.
Book Silverstone Fusion Lounge hospitality
VIP with Pit Lane Access Package: the best for F1 superfans
Experience the ultimate in F1 luxury with a 3-day Race Ticket, covering Friday's practice, Saturday's qualifying, and Sunday's thrilling Raceday with the VIP Pit Lane Access Package.
Your journey begins with prime viewing from above the pit lane and team garages, offering a mesmerizing perspective of the start/finish line.
Additionally, complimentary grandstand seating is at your disposal, ensuring you don't miss a moment of the action.
As you revel in the excitement, enjoy the all-day open bar, serving up Champagne, fine wines, beers, soft drinks, as well as a selection of tea and coffee to keep you refreshed throughout the day.
To satisfy your culinary cravings, indulge in a gourmet luncheon, featuring a plated starter followed by a sumptuous buffet, perfectly complementing the high-octane racing experience.
But that's not all – your exclusive access includes pit lane walkabouts at specially allotted times, allowing you to get up close and personal with the heart of the action.
When you need a breather, retreat to the hospitality lounge, a fully equipped space complete with TV screens, a well-stocked bar, and a lounge area for mingling with fellow F1 enthusiasts.
Your VIP treatment continues with private parking – one car parking pass is included for every three guests, ensuring convenience and ease of access. Immerse yourself in the F1 world further with a guided Paddock Tour, where you'll gain insight into the inner workings of the sport.
To top off your luxury experience, enjoy Paddock Club Entertainment, which includes a Paddock Club guests' Parade Truck Tour, F1 Simulators, the F1 Pit Stop Challenge, and a variety of other engaging activities.
Your journey through the world of Formula 1 at Silverstone promises to be an unforgettable, action-packed adventure, with every amenity and experience designed to make it truly exceptional.
Book VIP with Pit Lane Access hospitality at Silverstone
How much does Silverstone hospitality cost?
Hospitality package prices for the British Grand Prix 2024 start from £1,999 per person + VAT. Here is a breakdown of prices per package:
Octance Terrace Package starts from £1,999 per person + VAT
Ignition Club Package starts from £2,299 per person + VAT
Fuision Lounge Package starts from £3,499 per person + VAT
VIP with Pit Lane Access Package starts from £5,407.50 per person + VAT
Please be aware that Seat Unique operates as a live marketplace, where premium ticket and hospitality package prices may vary based on supply and demand. Prices can also differ by venue and package type.
What is the dress code for Silverstone VIP areas?
Dressing appropriately for Silverstone's hospitality areas is essential. A smart casual dress code applies to all guests.
Although jeans are allowed, they should have a smart appearance without any rips, tears, or bleaching. On warmer days, you're welcome to wear smart shorts as well.
Feel free to embrace your team's spirit as team merchandise is perfectly acceptable to wear.
If you find yourself in the Trackside, The Racing Green, or Octane Terrace areas, keep in mind that the dress code is slightly more relaxed due to the outdoor setting.
It's a good idea to choose suitable footwear since some of the car parks have grassy terrain. Your footwear should be clean, and smart trainers are allowed.
---
Do you love F1? Check out all of our Grand Prix hospitality packages for 2023/24.