Romesh Ranganathan's tour will keep him busy in 2024. While it is some way away, you can find all the important information about it below, including dates, venues and how to get official premium tickets and hospitality.
English actor and comedian Romesh Ranganathan is beloved by many in the nation. His deadpan humour has delighted the UK for many years now across all the mediums he has featured.
However, in 2024, he returns to stand-up comedy, embarking on a new tour across the UK and Ireland.
Find out about Romesh's new tour, when it will be, the venues he will visit, and how you can get premium tickets to select shows.
Buy Romesh Ranganathan VIP Tickets
When was Romesh Ranganathan's last tour?
Romesh Ranganathan's last tour was titled 'The Cynics Mixtape', and it ran from late 2019 until the middle of 2022. The COVID-19 pandemic did put a halt to its runnings throughout 2020 and part of 2021, hence the later finish.
The tour was received very well by critics and fans, and helped his already blossoming career even further.
What has Romesh Ranganathan been up to?
Romesh has made himself one of Britain's leading funnymen. His comedic brilliance has been brought onto many different projects.
He became a regular panellist on multiple shows, including 'The Apprentice: You're Fired', 'Play to the Whistle', and 'A League of their Own'.
The comic has also gone on to host a number of shows, too. 'The Ranganation' has been running for five seasons since 2019, and it features Romesh, his mother, two celebrity guests and 25 members of the public discussing the news events in the week in a light-hearted manner.
His big call came when he took the hosting duties for 'The Weakest Link' in 2021, a beloved British game show. 'Judge Romesh' has also become a nation-favourite since premiering in 2018.
Romesh has also published two autobiographies; 'Straight Outta Crawley: Memoirs of a Distinctly Average Human' in 2018, and 2020's 'As Good As It Gets: Life Lessons from a Reluctant Adult'.
What is Romesh Ranganathan's new tour?
Romesh's new tour coming in 2024 is named the 'Hustle' tour. It is currently scheduled to last from January until June, however extra dates have already been added and more could be coming yet.
What venues will Romesh Ranganathan's tour visit & when?
The 'Hustle' tour is scheduled to visit 32 cities with 38 shows in total. Here is the full list of shows with their venues and dates:
27th January - Town Hall, Cheltenham, England
28th January - The Anvil, Basingstoke, England
1st February - Hexagon, Reading, England
2nd February - Hexagon, Reading, England
3rd February - Royal & Derngate, Northampton, England
4th February - New Victoria Theatre, Woking, England
10th February - Kings Theatre, Portsmouth, England
11th February - Cliffs Pavilion, Southend, England
15th February - New Theatre, Oxford, England, England
17th February - Regent Theatre, Ipswich, England
18th February - Mayflower Theatre, Southampton, England
22nd February - Marlowe Theatre, Canterbury, England
23rd February - Marlowe Theatre, Canterbury, England
24th February - Milton Keynes Theatre, Milton Keynes, England
8th March - O2 City Hall, Newcastle, England
9th March - The Globe Theatre, Stockton, England
14th March - Villa Marina, Douglas, Isle of Man
19th March - Theatre Royal, Norwich, England
21st March - Swansea Arena, Swansea, Wales
11th April - Liverpool Empire, Liverpool, England
12th April - City Hall, Sheffield, England
19th April - Brighton Dome, Brighton, England
20th April - Brighton Dome, Brighton, England
25th April - Brighton Dome, Brighton, England
26th April - Brighton Dome, Brighton, England
27th April - Brighton Dome, Brighton, England
3rd May - 3Olympia, Dublin, Ireland
4th May - Grand Opera House, Belfast, Northern Ireland
10th May - Windsor Hall, Bournemouth, England
11th May - Windsor Hall, Bournemouth, England
15th May - Music Hall, Aberdeen, Scotland
17th May - Playhouse, Edinburgh, Scotland
24th May - The O2, London, England
29th May - International Arena, Cardiff, Wales
30th May - Utilita Arena, Birmingham, England
1st June - Motorpoint Arena, Nottingham, England
7th June - First Direct Arena, Leeds, England
8th June - AO Arena, Manchester, England
How can I get Romesh Ranganathan tour tickets?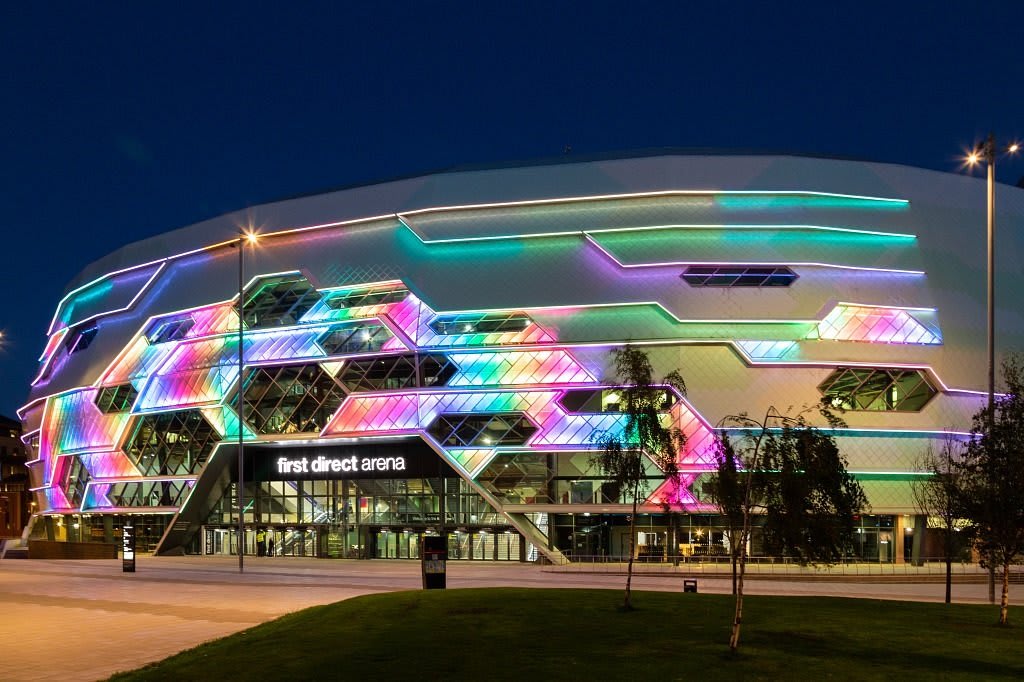 Tickets for Romesh's tour have been out for some time for the original scheduled dates. The newer added dates have also started going on sale or are on sale very soon.
You could choose to go for standard tickets and have a pleasant evening. Or, you could treat yourself to some official premium VIP tickets and have a superb experience filled with prime benefits.
Seat Unique is delighted to offer official Romesh Ranganathan tour VIP tickets to his shows in Birmingham, Leeds, and Manchester.
Each venue comes with its own benefits, such as:
Comfortable padded seat with sublime stage views
Access to the venues VIP lounge
Drinks available to purchase in said lounge
Delectable food options available
Fast tracked entry and exit from the venue via the VIP entrance
Get your tickets now to ensure your place at the venue of your choice and provide yourself with a wonderful evening of laughs and luxury.
Buy Romesh Ranganathan Birmingham VIP Tickets
Buy Romesh Ranganathan Leeds VIP Tickets
Buy Romesh Ranganathan Manchester VIP Tickets
Another beloved British comedian touring the UK is Peter Kay. He will be performing at multiple venues across 2023, 2024 and 2025.