The start of the second year of the new F1 era has been rather interesting, with a big shuffle of the constructors' order. With three races gone and a good picture of where things could be headed, we bring you our updated 2023 F1 season predictions for the drivers and constructors.
Last Updated: 03/04/23 at 16:12
The 2022 Formula 1 season brought in new regulations that saw a change to the sport, bringing about more entertainment and with the intention to bring closer racing within the field.
While it was an entertaining year, it is usually the second year of a new era that brings about the most excitement - and that is somewhat the case this year.
A lot of the teams learnt from Red Bull, who got the new regulations the most right last year, and now we're seeing some very similar designs but some equally interesting results.
As for the drivers, another season means another chance to better themselves - for some, they will want to improve on a disappointing 2022 season. For others, it's their chance to grow further and show they belong.
With all that being said, here we bring you our updated F1 predictions for the 2023 season, taking a look at what we had previously predicted and updating accordingly .
When did the F1 2023 season start?
The F1 2023 season started at the Bahrain Grand Prix, with the race weekend taking place across Friday 3rd - Sunday 5th March.
F1 Pre-Season Testing
Pre-season testing took place at the Bahrain Internation Circuit for three days on 23rd-25th February.
What testing provided was a solid look into the cars for the season. The reigning Constructors' Champions Red Bull looked to carry on where they had left off the year prior, with a strong showing that was sure to have them as heavy favourites for the season.
Surprisingly, Mercedes and Ferrari didn't look all that impressive. Many thought both sides would make ground on Red Bull over the offseason and come back ready to fight them immediately.
Instead, the two works teams showed signs of weakness and didn't look any closer than they did after pre-season testing last year, with Ferrari even taking steps backwards.
The biggest surprise, though, was Aston Martin. The British side have followed Red Bull's formula and adopted a very similar design which has come with a lot of success.
A solid showing in pre-season has led to instant results, with new driver and two-time World Champion Fernando Alonso finishing on the podium in all three races so far this season.
Elsewhere down the grid, McLaren also took some large steps backwards and have struggled to start the (although a double points finish at the crazy Australian GP has helped them jump from last in the standings to fifth).
Results So Far
After three races (Bahrain GP, Saudi Arabian GP, and Australian GP), Red Bull are completely in a league of their own.  They have dominated all three races, picking up a 1-2 finish in both Bahrain and Saudi Arabia, Max Verstappen taking the victory in Bahrain and Sergio Perez winning in Saudi Arabia.
Verstappen then won again in Australia, and while it didn't end up as comfortable as the other two races, he had an easy time in the lead for the most part when there was racing going on.
Aston Martin have shown the massive steps they have taken, with Alonso finishing third in every race so far. The Silverstone-based side currently sits second in the Constructors' Championship, nine points ahead of Mercedes.
Speaking of the German team, they picked up their first podium of the year in Australia, with Lewis Hamilton confidently fending of Alonso for much of the race to take second place.
His teammate George Russell was unfortunate to retire with an engine problem as if he was able to keep going, a double podium was very much on the cards for them.
And as for Ferrari, it has been a less than desirable start to their campaign, especially for Charles Leclerc. He has had two DNFs already this season, and his only finish came in Saudi Arabia, where he placed seventh.
F1 2023 Calendar - Races to look out for
The 2023 season is another long one, with 23 races scheduled, including one new circuit and one returning to the calendar.
The Chinese GP was set to return, however, it has since been cancelled once more, leaving a four-week gap between the Australian GP (2nd April) and the Azerbaijan GP (30th April), hence why we're taking a look at predictions already!
Dutch Grand Prix (25-27th August)
The Dutch Grand Prix will be the first race after the summer break. Usually this spot is reserved for the Belgian Grand Prix, but that has been moved to the last race before the break so as to avoid a triple-header (three consecutive weekends of racing).
At this point in the year, things will be a lot clearer for who is competing where. Everyone should have their main rivals and who/what they are targeting.
The summer break will be a good opportunity for the teams to research and bring new big upgrades for the car to take them to the end of the season, so the first race back is similar to the season opener in that sense.
It will be highly competitive, and could be the turning point for many drivers' and teams' fortunes for the remainder of the year.
Buy 2023 Dutch Grand Prix Hospitality
Qatar Grand Prix (6th-8th October)
The Qatar Grand Prix returns to the grid after first being introduced during the 2021 season. It didn't feature in the 2022 season due to the Qatar World Cup.
Lewis Hamilton won the race that year, with a dominant display that saw him win from pole position. If Mercedes are indeed back in the fight for next season, this could be a circuit where the seven-time World Champion would feel confident in picking up a victory.
What will make this race so interesting, however, is the fact that it has been chosen as one of the sprint race weekends, meaning we can expect more excitement from the added racing that comes from these special weekends.
Buy 2023 Qatar Grand Prix Hospitality
Las Vegas Grand Prix (16th-18th November)
Brand new to the F1 calendar is the Las Vegas Grand Prix, taking place in the iconic US city, along the famous strip and past other recognisable features of Sin City.
The spectacle that will come with this race weekend will be unlike anything else on the schedule - while Monaco is also known for its exuberance and grandeur, the City of Sin doesn't quite command the elegance that comes with the Monte Carlo charm.
As the penultimate race of the season, coupled with being a back-to-back race weekend with the season ending Abu Dhabi Grand Prix, we can expect a true show from the race organisers.
On-track action may be limited with it being a street circuit, but that is not to say it won't be interesting. We predict an unpredictable race where anything can happen!
Buy 2023 Las Vegas Grand Prix Hospitality
2023 F1 Predictions
One of the most fun parts about Formula 1 is predicting how a season will go, then going back at the end to see how those predictions held up with the season.
While it is nowhere near the end of the season, we wanted to take a look back anyway and see how our previous predictions have held up.
World Champions - Previous Prediction
After a dominant season for Red Bull last year, it's hard not to see them as favourites once more. However, the vastly diminished aerodynamic testing time they will have will play a bigger part than most people realise.
The likes of Ferrari and Mercedes will need to capitalise on that fact if they want to challenge Red Bull.
Mercedes made huge strides throughout 2022. They started the year far off of Ferrari and Red Bull, and by the end were challenging for race wins. If they can keep improving the car, they will be in a strong position to be winning again.
However, and this may be really wishful thinking, but we are going to give the nod to Charles Leclerc and to Ferrari to win both the Drivers' and the Constructors' Championships.
Under new guidance in Vasseur, a man who is known for success and leading his teams the right way, we see Ferrari being at the forefront once more, only this time they will not let it slip.
Leclerc looks more than ready and capable of challenging for the title, even if it is up against the likes of serial winners Hamilton and Verstappen.
World Champions - Updated Prediction
Yeah, that was some very wishful thinking indeed.
It seems safe to say that Ferrari will not be challenging for either the Drivers' or the Constructors' titles this year. It may take a fair amount of work for them to jump ahead of Mercedes and Aston Martin, let alone Red Bull.
Mercedes looked stronger in Australia but still don't seem to be ready to challenge Red Bull, and while Aston Martin have put up a fierce fight on the Saturdays, their race pace is no match for the Bulls.
Our new prediction is the obvious one - Red Bull will cruise to a second-consecutive Constructors' Championship.
As for the Drivers' Championship, as much as we'd love to Perez as World Champion, it will be Verstappen making it three titles in a row this year.
We will say this, though - were not fully counting out Mercedes and Aston Martin in the Constructors' Championship, nor are we counting out Hamilton and Alonso in the Drivers' Championship.
We think Red Bull have shown their full hand. They do still have the lesser testing and development time, so that may affect them later on. They could have put everything into the car at the start of the year and have minimal to no development for the rest of the year.
If that turns out to be the case, Mercedes and Aston Martin could catch them at some point, and then the championships could really be on.
Surprise Winner
2022 didn't see a surprise winner, although Russell's Brazil victory was a welcome difference from the season norm.
In 2023, however, we think we could expect to see one or two fresh faces on the top step. We predict either Pierre Gasly, Esteban Ocon, or Lando Norris will find themselves with a surprise first-place finish at some point during the season.
Gasly is a one-time race winner, remarkably coming away as the victor of the 2020 Italian Grand Prix at Monza. He could take another surprise victory in his first season with his new team.
The same could be said for his new teammate, Ocon. He also picked up a surprise win at the 2021 Hungary Grand Prix. If Alpine have the car to stick around as the best of the rest, they could be in a position to take a race win if things fall their way.
And Lando Norris has worked hard to become McLaren's number one, and has come agonisingly close to race wins already. Could 2023 be the year he finally gets his first?
Surprise Winner - Updated Prediction
We feel we can safely take Lando Norris out of this, as McLaren's prospects of finishing even on the podium are very, very slim.
As for Ocon and Gasly, the Alpine does look like a decent car that is capable of scoring consistent points. While it would probably take a miracle for either one of them to find themselves on the top step, crazy things do happen every year in F1.
Rookie of the Year - Previous Prediction
Logan Sargeant, Nyck de Vries and Oscar Piastri are the three new guns on the grid. Each will come with something to prove, but who will be best?
De Vries and Piastri are both former F2 Champions, while De Vries is also a former Formula E champion.
The Dutchman has been around F1 the longest, and has competed in one race already, taking over from his teammate Alex Albon last season at Monza due to an illness to Albon. It was this result that earned him a seat for 2023.
Piastri's name has been brought up many times in the past about a seat on the grid. He is young and hungry and very deserving of his place. Now he is prepared to show his quality.
Sergeant is the rogue one here, having spent just one season in F2. That stellar year landed him the Williams seat, but will it prove to be too soon to be promoting him?
We are picking Nyck de Vries for Alpha Tauri as the Rookie of the Year.
Rookie of the Year - Updated Prediction
No need to change this one. Neither driver has really been able to stand out, with all three not producing a whole lot so far.
Piastri did pick up a good points finish in Australia, taking home four points and an advantage over De Vries and Sergeant, who have both failed to score a point.
However, with Piastri not finishing in the other two races, and the McLaren still not looking that great, his home Grand Prix result seems like more of an outlier than what could be the standard for him and the team.
We are sticking with our original prediction of Nyck de Vries as Rookie of the Year.
F1 Tickets 2023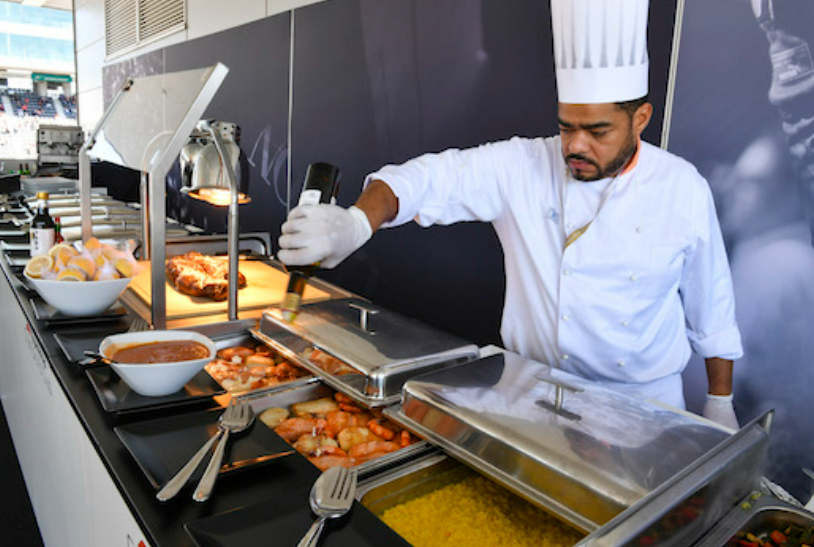 Attending a Formula 1 race weekend is a wonderful occasion, regardless of what day you got on. The atmosphere from the crowd, the adrenaline you feel from the stands, it all adds up to being a memorable experience.
But you can make it even better through premium Formula 1 hospitality.
F1 hospitality will bring you added luxuries to your race weekend. Each location has their own packages, but for the most part, you will get a lot of the same benefits. These benefits can include:
Prime track views from premium grandstand seats
Fine cuisine available to indulge in
Complimentary drinks throughout the day/ weekend
Track tours & pit lane walks
F1 drivers & legends appearances
Every circuit is different, and they may not all include those benefits in their packages. But that's what makes it so much better - every race has its own perks for hospitality!
You literally can not lose if you opt for a premium F1 hospitality package, so check out what we have available for the 2023 season and secure yours now!
Buy 2023 Formula 1 Hospitality
For the British F1 fans, the British Grand Prix is a must-attend at some point. The prestigious Silverstone race is a staple on the calendar, one that must be properly experienced at least once.