The Premier League Season 2023/24 is kicking off, and we couldn't be more excited. Read our guide on the best hospitality packages.
If you're passionate about football and crave an extraordinary experience, look no further. We're here to guide you through the world of incredible matchday experiences, where you can indulge in luxury, immerse yourself in the electric atmosphere, and create unforgettable memories.
Get ready to be treated like royalty and make your day an extraordinary one, with our guide to the best premier league hospitality packages.
Burnley Longside Lounge
Experience the ultimate matchday extravaganza at the North Stand (Blocks 6 & 7 or 8 & 9) within the Longside Lounge, where hospitality reigns supreme.
Immerse yourself in unparalleled luxury as you sink into plush padded seating, offering unmatched comfort and prime vistas of the on-field action. Treat your taste buds to a delectable three-course meal and quench your thirst during halftime with a selection of refreshing beverages.
Elevate your excitement by rubbing shoulders with a revered Clarets' legend, adding an extra layer of thrill to your experience. And as the grand finale, bear witness to the electrifying Man of the Match presentation, as a deserving player is celebrated for their exceptional performance. This is an opportunity not to be missed.
If your goal is to impress clients or engage your employees, the Longside Lounge presents the perfect way to distinguish yourself from the crowd.
Book Burnley FC hospitality
Crystal Palace White Horse Lane Box
Prepare yourself for a lavish experience within the realm of Crystal Palace hospitality. Envision yourself at Selhurst Park, gazing upon the pitch from your exclusive vantage point in an executive box. With impeccable views of the game, you'll feel intimately connected to the pulsating action.
The White Horse Lane Stand Box stands as the crowning jewel of the Club, strategically positioned directly behind the goal, ensuring not a single moment of excitement escapes your attention.
But there's more to this extraordinary indulgence! Prior to kick-off, immerse yourself in a pre-match feast, savouring a delicious two-course meal served right within the confines of your box. The culinary delights on offer will tantalise your taste buds, setting the stage for an unforgettable day.
Families and children are more than welcome to join in the excitement. So, bring your whole family along and enjoy a match day experience you'll talk about for years to come!
Check out: New Crystal Palace stadium
Buy Crystal Palace FC hospitality
Manchester City Tunnel Club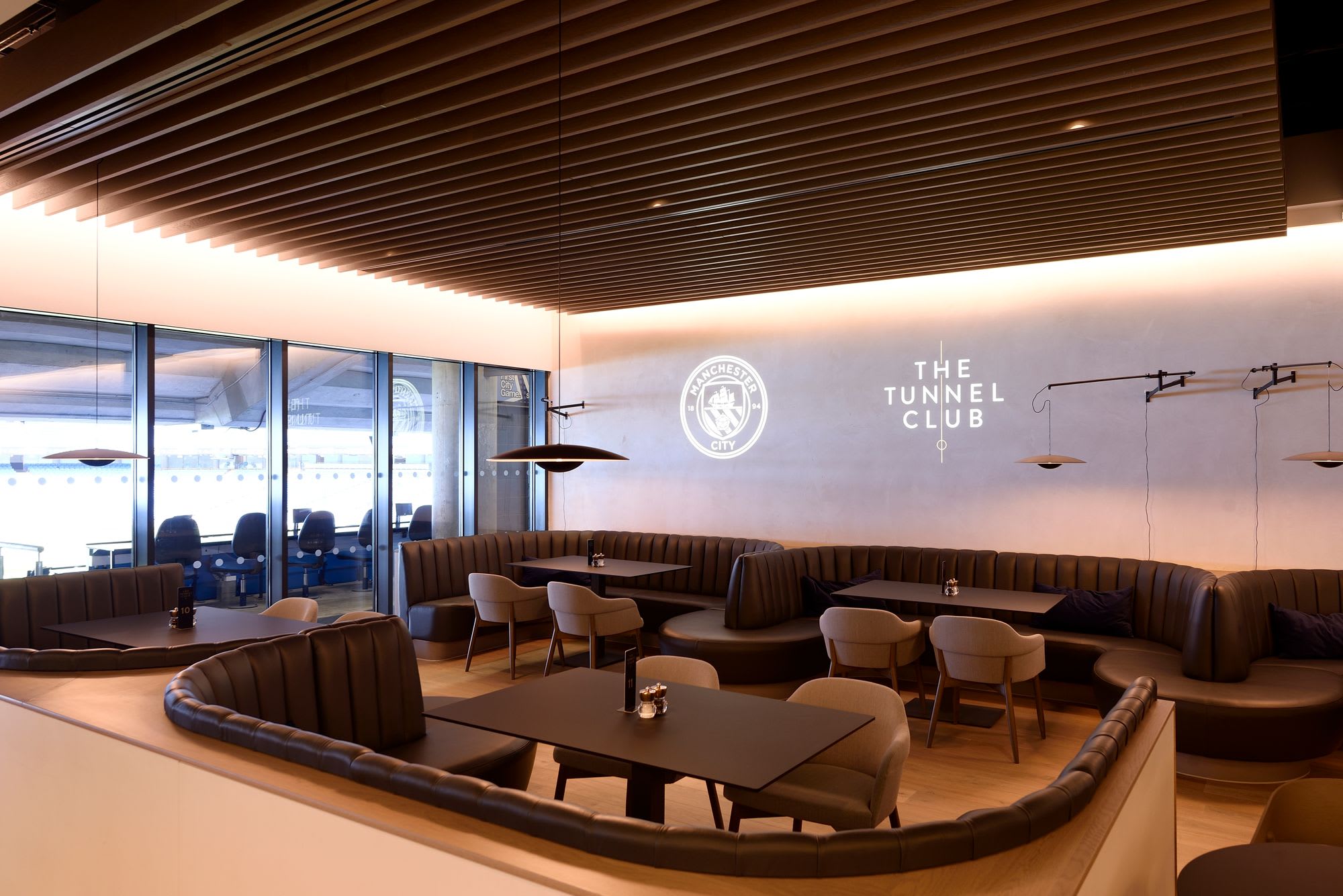 At the Etihad Stadium, Manchester City holds an advantage over their neighbours, both on and off the field. Constructed in 2003, the stadium was thoughtfully designed to accommodate ample space for hospitality offerings. With a growing fan base, this space has become particularly valuable.
If you're considering a truly memorable experience, we highly recommend the Tunnel Club. It stands out as one of the most extraordinary and thrilling experiences in football.
The lounge provides an unparalleled view directly onto the entrance tunnel leading to the pitch. From there, you can observe the players warming up, engaging in conversations, and eventually making their way onto the field. It offers an intimate encounter with Premier League stars, an opportunity that very few people get to enjoy.
In addition, the Tunnel Club provides a comprehensive VIP service, including a Champagne and Canape reception, a five-course fine-dining meal, access to a complimentary bar, and executive padded heated seats for the duration of the game.
These packages are available for all matches, ranging from the Carabao Cup to the Champions League. They represent the epitome of football-watching experiences. However, it's worth noting that these packages come at a premium price, similar to the cost of Manchester City's remarkable success.
Find out more: Inside Man City's Tunnel Club Hospitality Experience
Buy Manchester City FC hospitality
Manchester United Evolution Experience Package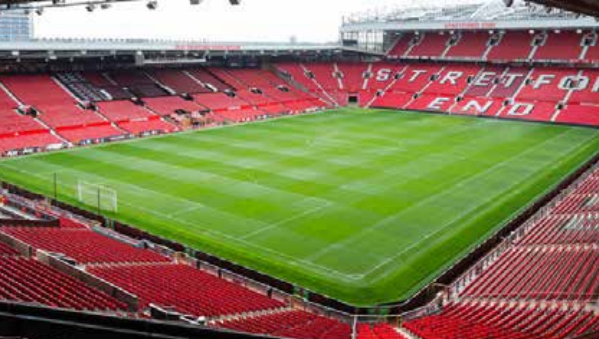 Experience the expansive Evolution Suite, an exquisite venue that spans two levels and showcases cherished moments from Manchester United's illustrious history.
With breathtaking views overlooking the captivating Salford Quays, the ambience harmonises with the exceptional standards of service, culinary delights, and fine wines available, creating a unique thrill as anticipation builds before the match.
Within this luxurious suite, you will be treated to a first-class football hospitality experience. Upon arrival, you will be warmly welcomed with a canapé and champagne reception. Indulge in a three-course à la carte meal, accompanied by a complimentary bar offering a selection of beers, house wines, soft drinks, and spirits.
Relish the match from VIP executive padded seats, and savour traditional pies and cakes during halftime. As if that weren't enough, your experience will be further enhanced with a matchday program and team sheet, a commemorative matchday souvenir, and the possibility of a visit from Manchester United legends (subject to availability).
By seamlessly combining world-class hospitality with a grand display of the club's extraordinary achievements, the Evolution Suite stands as one of the most exceptional facilities at Old Trafford.
Find out more: Top 5 Manchester United VIP Packages for the Premier League
Book Manchester United Hopsitality
Tottenham Travel Club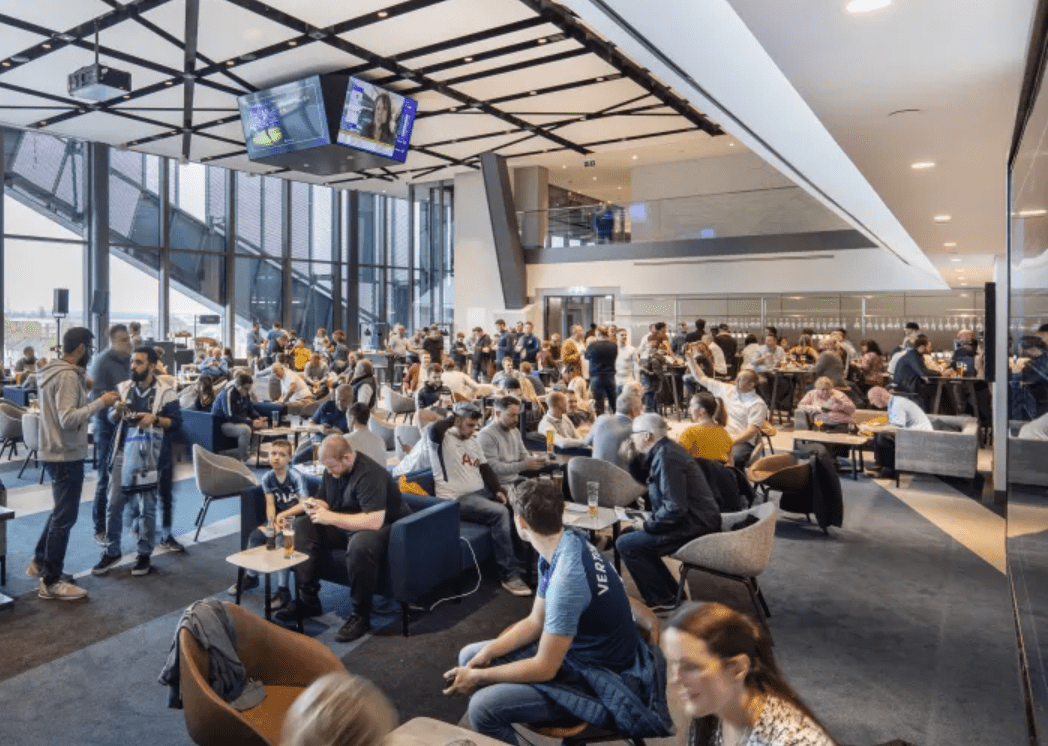 Experience the pinnacle of matchday luxury with The Travel Club, granting passionate Spurs fans access to the most sought-after pitch views available at Tottenham Hotspur Stadium.
With a coveted Travel Club ticket, you will bask in the fixture's excitement from the plush comfort of your premium padded seat, while indulging in unparalleled perspectives.
Choose from a selection of prime seating options, including the long side, halfway line, or corner positions, ensuring you have the perfect vantage point.
With a Tottenham Hotspur Travel Club ticket you will benefit from fast-tracked entry before indulging in an array of luxury perks in the beautiful stadium lounge.
Soak up the electric pre-match atmosphere as you have all your needs met with inclusions such as a stunning grazing menu buffet, private bar access, and complimentary drinks.
In the Travel Club lounge, you will have the unique opportunity to bump shoulders with ex-Spurs players, and may even get the chance to chat to them about their time playing for the team.
Find out more: Why is the Travel Club the Best Value Tottenham Hotspur Experience?
Buy Tottenham Hostpur FC hospitality
Book your Premier League experience
If you've ever dreamed of experiencing a Premier League match in style, hospitality packages offer a magical way to turn that dream into reality.
Treat yourself, family, friends, or colleagues to an extraordinary day that will be etched in your memory forever. From luxurious amenities and breathtaking views to gourmet food and VIP treatment, these packages are designed to make your day truly special.
So, why not take the plunge and embark on an unforgettable football adventure? The Premier League awaits, ready to provide a hospitality experience that will exceed all your expectations!
Book Premier League Hospitality