As Seat Unique continues to grow, we are looking to expand our team and hire like-minded, motivated, and passionate individuals to become valued members of our business.
Seat Unique is The Premium Ticketing Marketplace dedicated to opening up fan access to premium tickets and hospitality for live events.
With a list of growing partners and plans for international expansion, we are looking for ambitious and dedicated people to join our team to help support the growth of our business.
Read on to find out more about who we are, why you should join our team, our current vacancies, and how to apply.
Who are we and what do we do?
To make premium experiences at live events more accessible, we have created a safe and secure online space that brings together a community of fans, artists, clubs and venues, in a way that benefits all.
As experts in digital transformation, we have established an impressive portfolio of partnerships with clubs and venues including the WRU, Yorkshire Cricket, and York Racecourse, by improving their hospitality booking processes with our white label website solutions.
Digitalising this process means that fans now have 24/7 online access to premium experiences through our trusted online marketplace.  
To find out more about our mission, and our values check out our About Us page and our Careers page.
What can we offer you?
Seat Unique offers an exciting array of benefits to its employees, ranging from benefit schemes through to an excellent and friendly team-based working environment.
Check out our video to get a feel for what it is like to work at Seat Unique or keep reading to find out more about the benefits we offer!
A place to exercise your passions
Sport, music, and culture are at the heart of what we do, so if you are passionate about these topics, Seat Unique is the perfect place for you to implement your interests into your work space.
Development plan
We are committed to providing excellent training, and setting out plans for career progression and growth through our development programme to ensure that our employees are constantly growing in talent and opportunity.
Incentive programme
Our quarterly incentive programme rewards our employees on an individual and team basis for their hard work and impact.
Access to live events
As a member of the Seat Unique team you will benefit from incredible access to VIP experiences and exciting live sport, music, and culture events.
Friendly, modern work space
We are based in a stunning, modern office building in Victoria that offers a fun and friendly work environment as well as perks including an on site gym, bar, and café.
Hear from the team!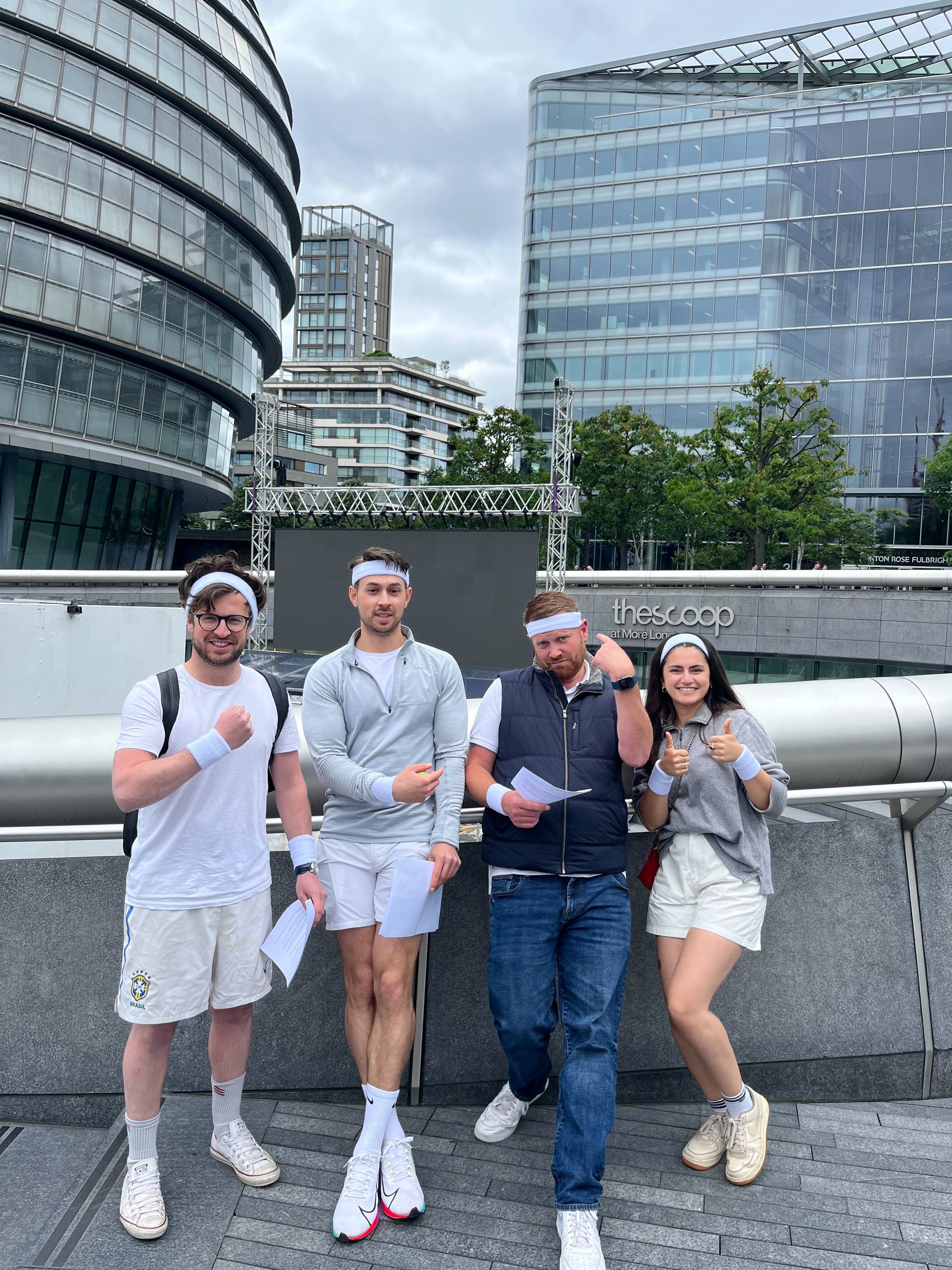 We asked some of our team what it is that they like about working at Seat Unique. Keep reading to hear what they had to say!
"Seat Unique is a great place to work. In particular I love how everyone in the team is so like-minded and really easy to work with, but also love to socialise out of hours as well! The team is ambitious and we are all keen to work towards similar end goals as a business so it's really easy to work alongside everyone!" - Alasdair Walters, Accounts Manager
"The best thing about working at Seat Unique is knowing that you are part of something special and seeing the impact that your work is making. From a development perspective, there are so many opportunities to learn from other employees and to grow within the company. Plus, the work culture is extremely supportive, as well as being fun and friendly!"- Gemma Parkers, SEO Content Manager
"It's great working at Seat Unique as you know that your work is valued. As a small start-up which is growing day by day you really feel as though you have a big influence on the success and direction of the business."- Nathan Dale, Marketing Executive
"I feel like the vibe of the office is work hard, play harder. I've worked at places before that expect so much of you and you don't get much in return. It isn't like that here. You get the best of both worlds working here – being a small team means everyone is super close etc but with the achievements being so huge, you get to enjoy a whole host of benefits." - Ria Marwaha, Operations Executive
"A few of my favourites things about working at Seat Unique are being able to look after projects from start-to-finish and seeing the results of our labour, getting to attend live sports events, and the social aspect!" - Guy Davis, Partnerships Manager
What roles are currently available?
We have a number of current vacancies available:
Content Marketing Executive
Operations Executive
Back-end Engineer
Social Media Manager
Sales Executive
Finance Executive
Sales Account Manager
Head of Customer Service
Team Manager
Visit our Careers page to discover more information about our vacancies, and to apply to become a member of our team!
If you can't find the role you are looking for and are interested in discovering more about the opportunities at Seat Unique please contact us at the bottom of the Careers page.