Explore the rich history of Watford Football Club by uncovering their top 5 goal scorers of all time. Discover the most prolific players in the club's history and what they helped the club to achieve.
Watford FC is a football club with a rich history spanning over a century. The club has had many talented players throughout the years, but some have stood out for their prolific and consistent goal-scoring ability.
Founded in 1881, Watford FC has since seen many highs and lows. The team has had periods of great success, including promotions to the top tier of English football and appearances in cup finals, as well as periods of struggle.
Throughout the club's history, Watford has been home to many prolific goal scorers, with several players having netted numerous times for the club. Some of these players have become legends of the game and are still remembered fondly by fans to this day.
Keep reading to find out the Hornets 5 all-time top goal scorers, and how you can secure VIP tickets to their games.
Buy Watford FC hospitality
5. Cliff Holton
Games: 166 | Goals: 105
At number 5 on our list we have Cliff Holton. The towering striker is a legendary figure in the history of Watford FC, having played a pivotal role in the club's success during the late 1950s and early 1960s.
Holton joined the Hornets in 1958 and quickly established himself as a fan favourite, thanks to his physical prowess and goal-scoring ability.
During his time at Watford, Holton scored an impressive 105 goals in just 166 appearances, averaging over a goal every two games and cementing his status as one of the club's all-time greats.
He was an integral part of the team that won promotion to the Third Division in 1960, scoring a record 48 goals in the season. In the third division, he continued to terrorise opposing defences with his powerful headers and thunderous strikes.
Holton's passion for the game and commitment to Watford made him a beloved figure in the club's history to this day. Holton tragically passed away in 1996 at the age of 61, but his legacy lives on as one of the greatest players to ever wear the yellow and black of Watford FC.
4. Troy Deeney
Games: 419 | Goals: 140
At number 4 we have Troy Deeney, the only active player on this list and one of Watford's most iconic leaders. Deeney spent over a decade at the club and led them through some of their biggest moments.
After a four-year spell at Walsall, he joined the Hornets in 2010 and quickly made an impact, scoring on his debut and becoming a fan favourite thanks to his work ethic and physicality.
During his time at Watford, Deeney scored an impressive 140 goals and made over 400 appearances, making him one of the most prolific goal-scorers in the club's history.
He also played a pivotal role in some of Watford's greatest moments, including scoring a very last-minute winner in their promotion to the Premier League in 2015, and their memorable run to the FA Cup final in 2019.
Off the field, Deeney has been a vocal leader and advocate for social justice, using his platform to raise awareness of important issues and give back to the community. He has also been open about his own struggles with mental health and has encouraged others to seek help when needed.
In 2020, Deeney made the difficult decision to leave Watford and join Birmingham City, but his impact on the club will never be forgotten. He remains a legend in the eyes of Watford fans and a symbol of the team's fighting spirit and determination.
3. Ross Jenkins
Games: 398 | Goals: 142
Number 3 on our list is Ross Jenkins, who played a key role in the club's rise from the lower leagues in the 1970s.
The midfield maestro joined Watford in 1968 and quickly established himself as a regular in the first team.
During his time at Watford, Jenkins played an integral role in the team's promotion from the Fourth Division in 1978 and their subsequent rise to the First Division by 1982.
He was known for his tireless work rate, technical ability, and eye for goal, scoring a total of 142 goals in 398 appearances for the club.
After retiring from playing in 1985, Jenkins remained involved with the club as a coach and scout. He tragically passed away in 2007 at the age of 58, but his legacy lives on as he remains a hero to Watford fans to this day.
2. Tommy Barnett
Games: 442 | Goals: 163
In the number 2 spot on our list, we have Tommy 'The Boy' Barnett, one of the most deadly players ever to grace the Vicarage Road pitch.
Barnett signed from Manchester United in the 1928 season and went on to write his name firmly in the centre of Watford FC folklore, scoring 163 goals and making 442 appearances, both of which were club records at the time and were later broken by the player that takes the top spot on our list.
A humble and modest forward, 'The Boy' went on to play for the London side for over ten seasons, winning two golden boots. Barnett's feats in front of goal are made even more impressive considering he was viewed as a creative player and not a goal scorer.
The inside forward's Watford career was cut short by World War One, and many speculate that if not for that he would be number one on our list as the club's all-time top scorer. Barnett was a Watford fan and continued to support the team until tragically passing away, reportedly on his way to collect his new Watford FC season ticket.
Tommy's love for the club, prolific goal-scoring record and loyalty throughout his career have made him a beloved cult hero among the Hornets faithful and a legend of the early game.
1. Luther Blissett
Games: 503 | Goals: 186
Taking the top spot on our list as Watford's all-time top scorer we have Jamaican-born talisman, Luther Blissett.
The forward began his career at the club as an apprentice in 1974 and went on to make a record 503 appearances for the Hornets, scoring 186 goals in the process.
Blissett was an integral part of the Watford team that achieved promotion to the First Division for the first time in the club's history in the 1981-82 season.
He formed a formidable attacking partnership with John Barnes and helped Watford achieve their highest-ever league finish of second place in the top flight in the 1982-83 season.
Blissett's performances at Watford earned him international recognition, and he made 14 appearances for the England national team between 1982 and 1984. He also helped Watford reach the FA Cup final in 1984, where they were beaten by Everton.
Blissett left Watford in 1984 to join Italian club AC Milan, but he returned to the club for two further spells in the 1990s. He remains a legendary figure at Watford and is regarded as one of the greatest players to have ever played for the club.
How Can I Get VIP Tickets to See Watford Play Live?
Watford have had their fair share of ups and downs in recent times, from the delight of gaining promotion back to the Premier League in 2015 and 2021 to the despair of relegation from the top flight in 2020 and 2022.
This season, under the tenure of Slaven Bilić, Watford currently sit in the top half of the EFL Championship and will be eager to kick on and win promotion back to the top flight of English football.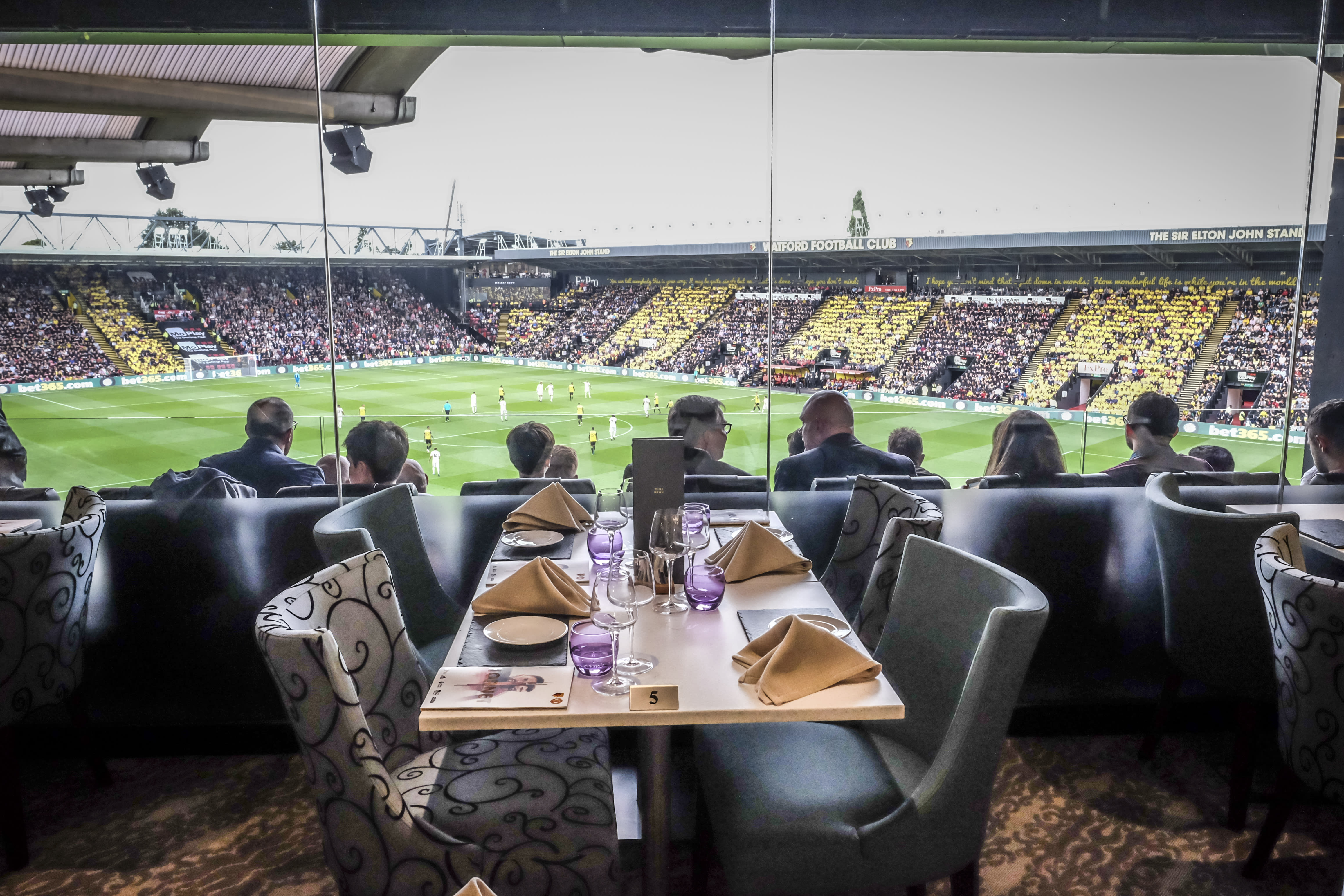 If you're a Watford fan, why not take your matchday experience to luxurious new levels with a VIP hospitality package through Seat Unique?
Seat Unique is thrilled to be the exclusive Premium Seating and Hospitality Platform of Watford FC. We power Watford FC's premium seating and hospitality sales through our trusted online platform, giving fans access to official premium experiences at Vicarage Road Stadium.
With a VIP ticket or hospitality package you will benefit from a host of luxury inclusions, such as*:
Premium padded seating with unrivalled views of the pitch.
A selection of delicious catering options.
Access to private VIP lounges such as the Legends Lounge.
Pre-game and half-time refreshments.
A complimentary matchday programme.
Inclusive beverages such as beer and wine.
Buy Watford FC hospitality
*Inclusions may vary depending on choice of package.
---
If you're a big football fan, Seat Unique offers a range of different football hospitality packages for a number of different teams.