Wales will be looking to get themselves ready for the Rugby World Cup by playing three Summer Series games. Find out who they will be playing and how you can be at the games with a premium hospitality package.
Last Updated: 01/03/2023 at 3.30pm
2023 will be a big year for some teams in the rugby world, and Wales is very much one of those teams.
The Rugby World Cup is the big feature for next year, with the tournament being held in France coming towards the end of the year.
Before that will be the yearly Six Nations tournament, which will take place at the start of the year, where Wales will be looking to improve on their 2022 result.
There is a fairly large gap between those competitions, though, in which the national side will be looking to prepare themselves for the world stage.
Wales will be looking to get their team ready by playing a series of World Cup warm-up games against strong opponents, with the games named the Summer Series.
Find the information on the games that will be played, as well as how you can get premium hospitality to them to experience the action in the best possible way.
Buy Wales Rugby hospitality
When, where and what will be Wales' Rugby World Cup warm-up matches?
Wales will want to make sure they are as ready for the World Cup as possible. As of writing, they are sitting at the bottom of the Six Nations table, with the team struggling on and off the field.
The break after the Six Nations may give them the well-needed time to sort things out, regroup and go out later in the year, ready to fight on.
The first time the rugby world will see if Wales have been able to improve will be with their World Cup Summer Series warm-up games.
Their Summer Series games will be a proper challenge for Wales, as they will be facing the formidable forces and World Champions England and South Africa.
They will face England twice, once at England's home of Twickenham and once at Wales' Principality Stadium. Here are the dates of the games:
Saturday 12th August - England vs Wales at Twickenham Stadium
These games are set to be exciting, hotly-contested affairs. The matchup against South Africa will be their first game against the Springboks since the 2022 Wales tour of South Africa in the summer of the year before, where they lost two games to one.
As for their England games, this will be yet another shot at their neighbours, having already played them earlier in the year in the Six Nations.
That Six Nations game will be fuel to the fire for these matchups, depending on who came away the victor.
Preparations for the World Cup will have already been in full swing by the time these games come around, with the team having been through tough intensive training camps in June and July.
It will also be the final opportunity for all players involved to make their mark and challenge for a spot on the plane to France to be part of head coach Wayne Pivac's World Cup squad. The Principality has seen some spectacular performances over the years. Check out our top five moments.
How can I get premium hospitality for the Wales rugby Summer Series World Cup warm-up matches?
Seat Unique is proud to be partnered with the WRU, exclusively powering its online hospitality sales. We are thrilled to be able to open fan access to these premium packages to provide an unforgettable VIP matchday experience.
There are three hospitality packages available that provide the very best hospitality while offering something unique for each.
Riverside Terrace
The Riverside Terrace is the Principality's newest hospitality offering, providing fans with the perfect setting for a more contemporary and fun informal premium match day experience.
Overlooking the river walk, you and your guests will have early VIP access to the terrace lounge, where there will be live music played throughout the day and a fully inclusive bar with beers, wines and soft drinks available to you (spirits will also be available to purchase on the day).
You will dine on an informal street food inspired two-course meal, and you will have a relaxed seating at a private table for groups of two, four or six people.
And finally, for the game itself, you will have a comfortable padded seat that is situated in a prime location overlooking the halfway line, giving you an unbeatable view of all the action!
Captains Club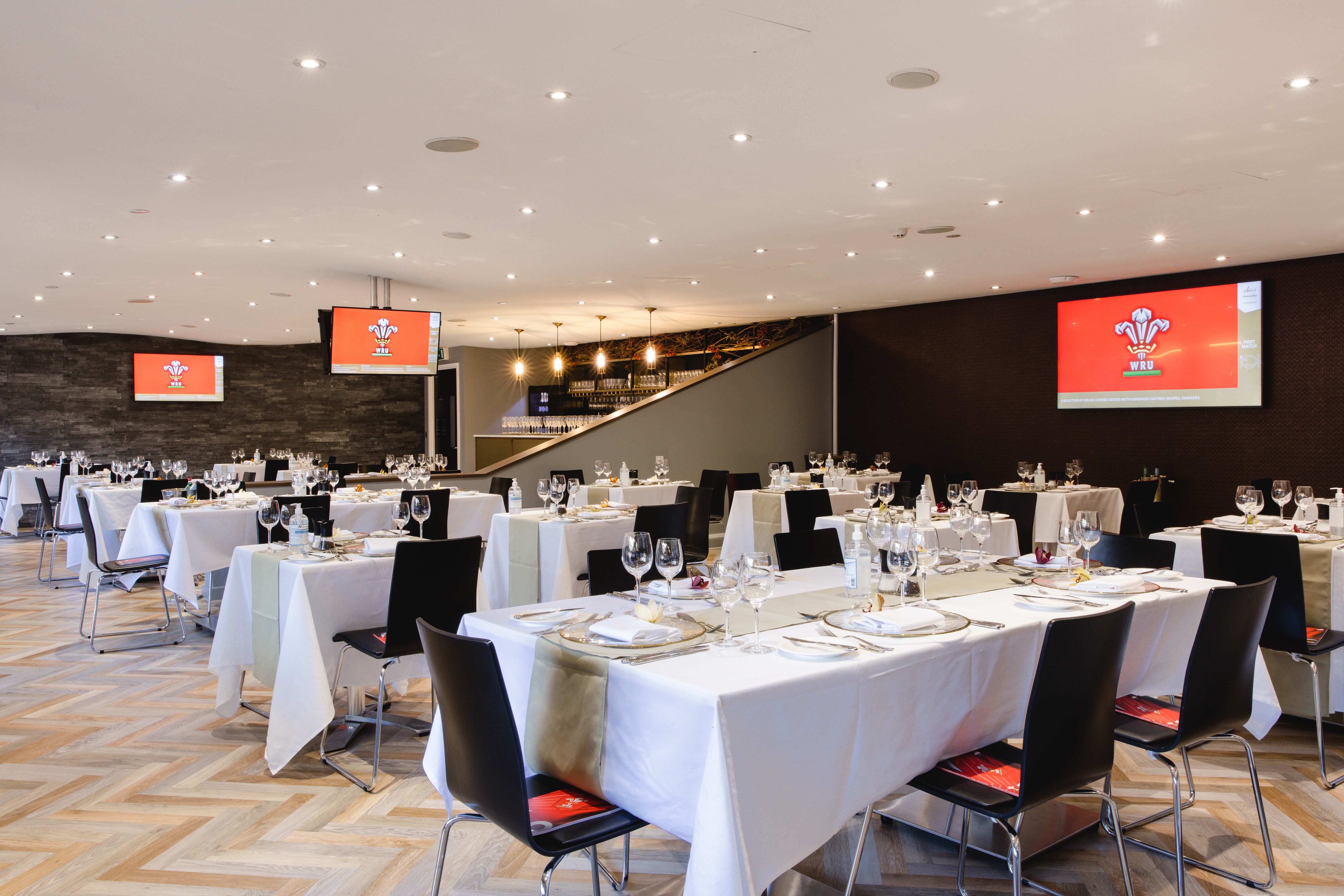 Offering the most exclusive matchday hospitality experience, the Captains Club hospitality package provides you with a luxury experience in an elegant and intimate space.
Gaining access to the hospitality lounge, you will be hosted by a former Welsh captain and other Wales rugby legends. Upon arrival, you will be greeted with canapes and a Grand Marques champagne reception.
A private table for you and your guests will await you, where you will indulge in a five-course fine dining tasting meal presented by the Principality Stadiums' head chef, Ryan Jones.
Fine wines will accompany each course, and a bar serving signature wines, premium spirits, beers and soft drinks will be available.
The lounge will also be available to you after the game, where you will once again be treated to some food, this time a post-match light supper.
As for your views, the lounge is pitch facing, providing you with a spectacular look at the grand stadium. Your seats are situated directly outside the box, padded for comfort and providing unbeatable views of all the action.
Private Suite (12 Person)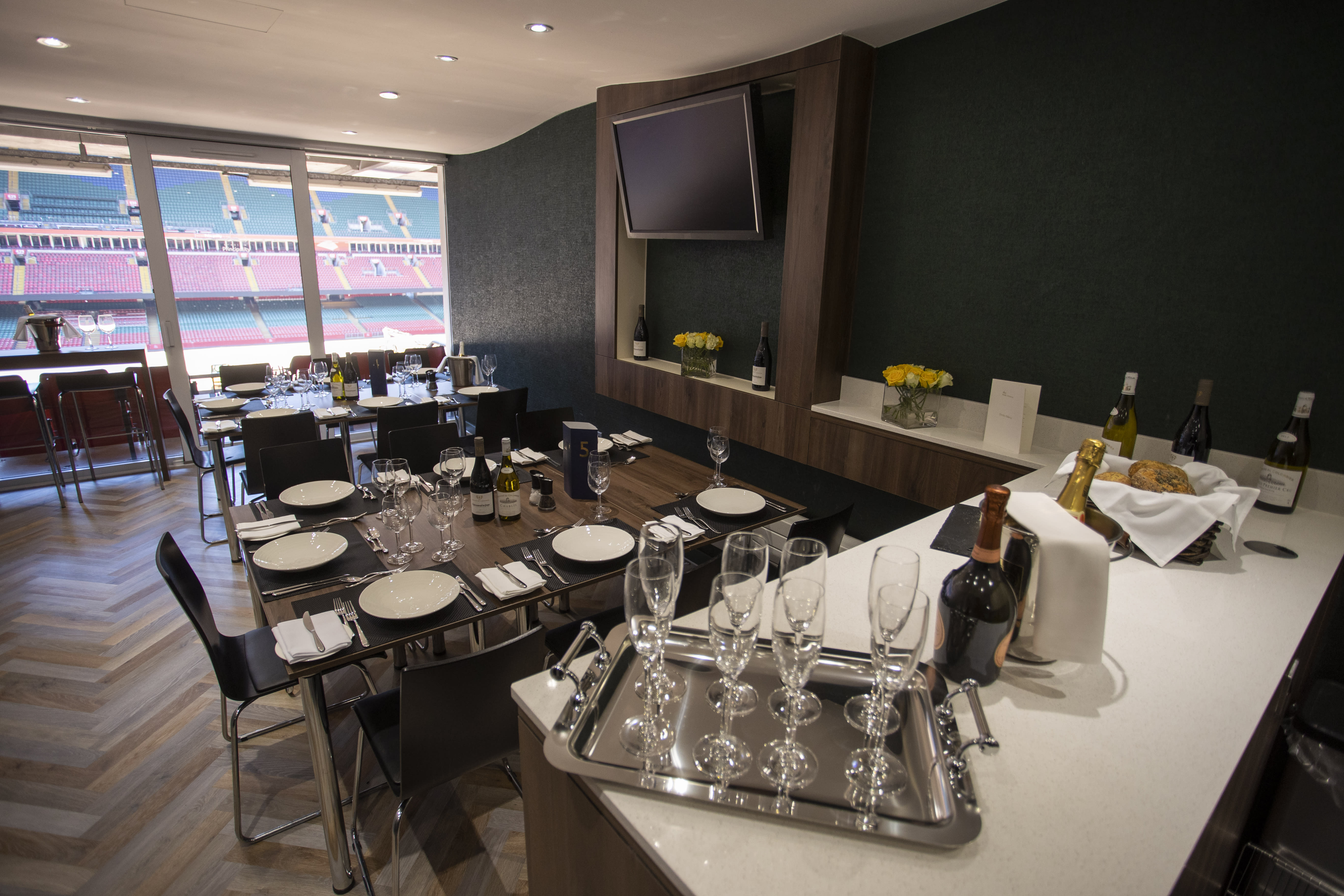 The ultimate hospitality package for any event, the Private Suite offers a more personal experience for you and your guests.
Your party will be invited to attend the venue early via the VIP entrance where you will then make your way up to your suite for the day.
What awaits throughout the course of the day will ensure you have the most lavish and unforgettable match day experience.
You will dine on a formal three-course meal pre-match that is prepared by celebrated chefs and will highlight the best of Welsh produce.
There will be an exclusive bar within the suite serving beers, wines and soft drinks, while spirits, premium wine and champagne are available on a pre-order basis.
Your seat for the match will be situated directly outside the suite, giving you a comfortable padded chair with unrivaled views of the pitch.
At half-time you will be treated to a handpicked cheese board, and after the match, you will head back inside where post-match savouries will be provided to you (on a pre-order basis).
The final benefit comes once more before the game, as you will be treated to a visit by a Wales rugby legend.
When can I purchase Wales rugby Summer Series tickets?
Tickets for Wales Rugby Summer Series World Cup warm-up games are available to purchase now.
Be sure to get your tickets when they become available. These games are sure to be exhilarating affairs that you will not want to miss, so treat yourself to a premium hospitality package and enjoy the action in luxury.
Buy Wales Rugby hospitality
Tickets for Wales' 2023 Six Nations matches against Ireland and England are available to buy now.