After almost 15 years of feuding, rumours have begun to circulate that the Gallagher brothers could be getting the band back together in 2023. Keep reading to find out everything we know so far.
Last updated: 30/05/2023 at 11:00 AM
Britpop icons Oasis, took the world by storm in the 90s and 2000s. Their music and attitude captured the spirit of 90s Britain, defining an era of anthemic rock and roll. Their success challenged the dominance of grunge and paved the way for the Britpop movement.
The band are known for their classic Britpop anthems and unique sound, due to the supreme songwriting skills of guitarist and singer, Noel Gallagher, and the pure star power of his brother and lead vocalist, Liam. However, Oasis disbanded in 2009 due to ongoing tensions between the two brothers.
Fast forward almost 15 years, and rumours of a possible Oasis reunion have been circulating for what seems like an age. The band's popularity is arguably as big as ever and fans eagerly anticipate a reunion tour.
In 2023, the rumours have grown exponentially, with both brothers hinting at a possible return to the stage for one of the biggest band reunions of all time. Although nothing has been officially announced yet, fans are beginning to get their hopes up.
If Oasis were to reunite in 2023, it would be a momentous occasion for fans all over the world. It would be a chance to relive the band's classic hits and experience their electrifying live performances once again.
Keep reading to discover everything we know so far, and stay tuned for updates on a possible Oasis reunion.
Oasis, the band that defined a generation
Oasis burst onto the scene in 1994 and were destined for greatness straight away with their attitude, charisma and relatability.
The band is known for their anthemic rock songs, inspired by bands like The Beatles and The Rolling Stones. Noel Gallagher's unmatched songwriting prowess and Liam's iconic raspy voice shot them to global superstardom as one of the most influential bands of their time.
The 'Supersonic' singers' popularity peaked in 1996 when they played their legendary performances at Knebworth Park in front of 250,000 people. Over 2 million people applied for tickets, meaning they could have sold out 16 nights at the iconic venue.  
Oasis have won numerous awards throughout their career, including multiple Brit Awards and NME Awards. Their second album, 'What's the Story Morning Glory?', is widely regarded as one of the greatest albums of all time and earned the band numerous accolades.
Despite the band's breakup in 2009, Oasis remains one of the most influential and beloved bands in British rock history, and their music continues to inspire new generations of fans.
Liam & Noel: What have they been up to since the split?
Since the split from Oasis, Liam and Noel have gone on to have successful solo careers, selling over 1.9 million combined albums worldwide.
After the departure of Noel, Liam, along with the remaining Oasis bandmates formed Beady Eye and went on to release two studio albums before parting ways in 2014.
Since then, the 'As You Were' singer has gone on to a wildly successful solo career, releasing four critically acclaimed albums and returning to Knebworth Park for two mammoth gigs in front of 160,000 people.
Shortly after exiting Oasis, Noel formed his band, Noel Gallagher's High Flying Birds. The psychedelic rock group have gone on to release three studio albums with their fourth project, 'Council Skies', coming out later in 2023.
Amid the Oasis reunion rumours, Noel is heading out on a UK arena tour at the end of 2023. Why not treat yourself to Noel Gallagher's High Flying Birds premium ticket package for one of their shows?
Liam Gallagher has recently made an exciting announcement for fans of Oasis. In honour of the 30th anniversary of the iconic album "Definitely Maybe", Liam has confirmed that he will be embarking on a tour in 2024.
When did Oasis last tour?
Oasis last toured in 2009, when they hit the stage across the globe for their 'Dig Out Your Soul' tour in support of their studio album of the same name.
The highly anticipated tour marked the band's live return after a three-year hiatus and lasted for over six months. They performed at some of the biggest arenas and stadiums around the world including Madison Square Garden in New York, Asia World Arena in Hong Kong, and a massive hometown gig at Heaton Park.
'Dig Out Your Soul' showcased a new direction for the band, with a more experimental sound and the incorporation of electronic and psychedelic elements.
Oasis' live performances on the tour were nothing short of electrifying, with the band delivering high-energy sets featuring classic hits and newer material. However, the tour is mainly known as the tour that ended Oasis.
Why did Oasis split up?
Oasis emphatically split up in 2009 due to ongoing tensions between the Gallagher brothers. The relationship between the two had been strained for years, with both brothers engaging in public feuds and making derogatory remarks about each other in the press.
It all reached boiling point on the 28th of August 2009, when just minutes before they were supposed to walk on stage for their set at the Rock-en-Seine Festival, a fight broke out backstage between Liam and Noel. Shortly after, their manager took to the stage to announce that Oasis had split.
The rest of the tour was cancelled with immediate effect, with Noel stating: "It's with some sadness and great relief to tell you that I quit Oasis tonight. People will write and say what they like, but I simply could not go on working with Liam a day longer" on the band's website.
Since the breakup, the brothers have been engaged in a public feud, continuously attacking one another in the press and on social media. Fans have been eagerly hoping that the two brothers could reconcile and get the band back together, and finally, it looks like it could be happening.
Liam's bags are packed for a reunion
Despite Noel naming his brother Liam as the main reason for the band's breakup, the former frontman has never wavered in his desire to bring Oasis back to the stage.
At the Oasis documentary 'Supersonic' premiere, Liam told Sky News, "If it happens tomorrow, I'm ready....If it happens in a year, I'm still ready, if it happens in ten years, I'm still ready."
Speaking at the 2016 event, Gallagher went on to reiterate that he was more than ready for an Oasis reunion, stating his "bags [were] packed" if Noel ever agreed.
The band's lead vocalist has hinted at a possible reunion on several occasions over the years, but older brother Noel has wanted no part in it. That is, it seems, up until now.
Most recently, Liam took to Twitter to announce he will be playing Oasis's debut album, Definitely Maybe, in full for its 30th anniversary next year. The tweet has sparked further speculation among fans that an Oasis reunion is on the horizon. Could it be too far-fetched to wonder if Noel could be joining Liam on stage for this momentous occasion? We don't think so!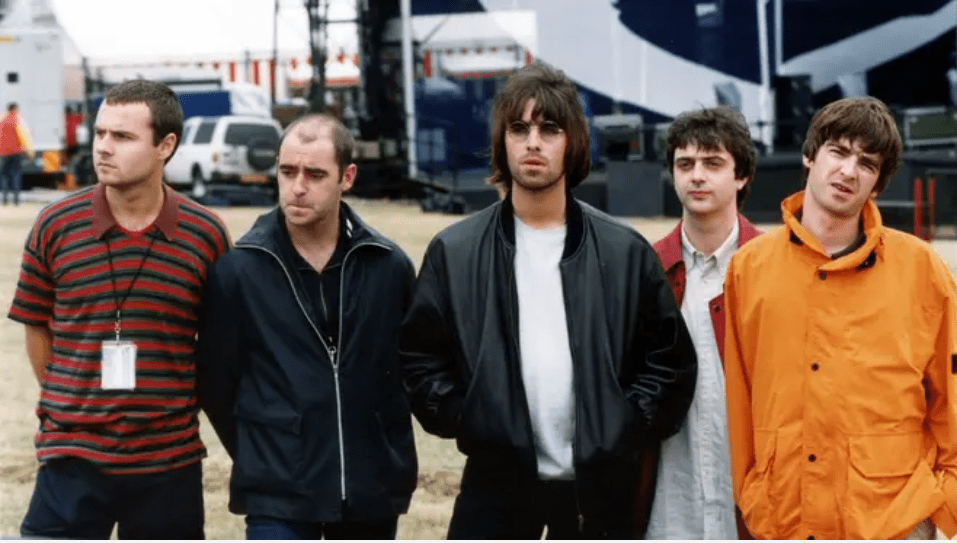 According to various reports, Oasis are set to reunite in June 2025. The Gallagher brothers are preparing for a string of headline dates at the renowned Knebworth House estate in England.
An Irish industry insider has suggested that if Knebworth was to happen we can anticipate one or two shows happening at Slane Castle, Ireland.
Oasis performed a historic concert at Slane Castle in August 1995. This concert marked a significant milestone in the band's career and became one of their most legendary live performances.
Since that historic performance, Oasis and Slane Castle have become intertwined in musical folklore, with the concert often cited as one of the band's greatest shows.
Will Oasis reunite in 2023?
Over the last 15 years, Liam has made it clear that he is open to getting back together with his brother and former bandmates for a blockbuster Oasis reunion. The ball has always been in Noel's court, and time and time again he has refused to even entertain the possibility.
However, it seems that his opinion has slightly changed as of late, which has sent fans of the band into meltdown as they gear up for the distinct possibility that the 'Wonderwall' singers could make their triumphant return in the near future.
Everything started to heat up at the end of March when in an interview with France Inter, Noel stated, "He's got my number, he's got my manager's number, call us!" in response to being asked about brother Liam's tweet about an Oasis reunion.
Since then, it has been reported by the Mirror and the Metro that the two brothers have made plans to meet up and settle their differences behind closed doors. The two have allegedly discussed the possibility of attending a Manchester City game together and meeting up in London's Hampstead Heath, where they both live.
A focal point of the bitter feud between the two was the disdain between Noel's wife, Sara MacDonald and Liam. With the two now confirming that they are getting a divorce, the door between the two brothers seems to have opened.
Oasis reunion odds
With the feuding brothers looking likely to finally bury the hatchet and move on from their longstanding beef, Sportslens has considerably slashed the odds of an Oasis reunion from 10/1 to 2/1.
How to be at Oasis 2023 reunion tour
Should the Manchester rockers finally announce their long-awaited reunion, demand for tickets is expected to be astronomical as fans fight to finally get the chance to see one of the greatest British bands of all-time back on stage again.  
If you're a big Oasis fan, why not consider celebrating the occasion with a VIP concert experience? Bypass the online queues for general admission tickets, secure premium seats in just four clicks, and get ready to enjoy a luxurious concert experience.
Register your interest in Oasis tickets now to keep up to date with all of the latest information and be the first to get your hands on official VIP tickets.
Register interest in Oasis VIP tickets
Buy Noel Gallagher VIP tickets
If you're a big Britpop fan, Seat Unique also offers VIP Blur tickets for the 'Song 2' singers' huge 2023 stadium shows in London.
---
Do you think an Oasis reunion will happen in 2023? Let us commenting comment on our Facebook or Instagram page, or tweet us @seatunique.