Going to a cricket match or concert at The Incora County Cricket Ground? Make the most of your trip to Derby with an overnight stay at one of these unique hotels near the stadium.
If you're attending a concert or sports event at the Incora County Cricket Ground, then why not skip out on the hassle of trying to travel to and from the venue on the event day and opt for a serene and luxurious overnight stay in one of the beautiful hotels nearby?  
Derby CCC's home ground is an amazing concert venue, with its spacious seating area, beautiful and well-manicured playing field, and excellent acoustics. This world-renowned cricket stadium has undergone numerous renovations over the years to provide an exceptional experience for concert-goers and cricket fans alike.
With state-of-the-art facilities, including comfortable lounges, and a range of dining options, this venue is a popular destination for music and sports fans. So, why not make the most of your time in Derby and book yourself into a hotel?
Why Stay Near Derby Cricket Ground?
Staying near Derby County Cricket Ground is a great idea if you're attending a concert there. This will allow you to enjoy the best of both worlds - the concert experience and the local atmosphere.
By staying nearby, you can avoid the hassle of long-distance travel and have more time to explore the city. You will also be able to access the stadium easily, as well as other local attractions, restaurants, and shopping centres.
Whether you are looking for a budget-friendly option or a luxurious stay, there are a variety of hotels to choose from that cater to your needs. Stay near Derby County Cricket Ground and make the most of your concert experience!
Get the perfect mix of luxury and convenience at The Coach House
The Coach House is a 4-star upmarket bed and breakfast located in Darley Abbey, just a 9-minute drive from the Incora County Ground.  
This stylish property offers guests a luxurious stay in a charming and tranquil setting. The Coach House offers guests spacious, comfortable, and individually decorated rooms with amenities such as flat-screen televisions, cable TV channels, coffee/tea makers, and more.
You can enjoy room amenities such as free Wi-Fi, a private bathroom with a shower, , towels, a hairdryer and get a good start to your day with daily housekeeping.
In addition to comfortable accommodations, the property also has a bar/lounge where guests can relax and enjoy a drink after a long day. Whether you're in Darley Abbey for business or pleasure, The Coach House is the perfect choice for a stylish and comfortable stay.
With its top-notch facilities and warm hospitality, this B&B is sure to make your concert experience at Derby Cricket Club a memorable one.
Have the ultimate luxury hotel experience at the Marriott Breadsall Priory Country Club
Marriott Breadsall Priory Country Club is a luxury hotel that's a 12-minute drive away from Derby Cricket Ground. The manor house hotel is located on a stunning 130-acre estate and is surrounded by picturesque countryside, making it an ideal location for a relaxing getaway.
The Marriott Breadsall Priory Country Club has a range of accommodation options including standard rooms, suites and cottages. The hotel also offers a range of luxurious facilities for guests to enjoy during their stay.
Guests can start their day with a delicious buffet breakfast served each morning from 6:30 AM to 11:00 AM. The hotel features a restaurant, bar/lounge, 24-hour room service, and a snack bar/deli, providing guests with several dining options.
Those looking to stay fit can take advantage of the hotel's fitness classes, while golf enthusiasts can enjoy a round of 18 holes or practice at the on-site driving range.
Guests can also relax and unwind in the hotel's garden, terrace, health club, indoor pool, full-service spa, hot tub, sauna, massage/treatment rooms, and steam room.
The Marriott Breadsall Priory Country Club offers a unique blend of history, luxury, and natural beauty.
Have a truly uniquely elegant stay at the Wildhive Callow Hall
Wildhive Callow Hall is a luxurious hotel located in the countryside of Derby. The hotel is set in a stunning 19th-century mansion and is surrounded by picturesque gardens and rolling hills, making it an ideal location to unwind after an event day.
The hotel is a 33-minute drive from Derby Cricket Ground, but the distance is more than made up for by the luxury. The hotel offers a range of elegant accommodation options, including premium double rooms and private treehouse suites.
Wildhive Callow Hall offers a range of facilities for guests to enjoy during their stay. Guests can start their day with a full breakfast each morning, and later dine at the hotel's restaurant or relax with a drink at the bar/lounge.
The hotel is located near hiking and biking trails, and also offers mountain biking nearby for adventurous guests. Other facilities include a garden, terrace, fitness centre, bike parking, and spa services including massage and treatment rooms.
This historic hotel was built in 1848 and its lush gardens and rolling hills provide a tranquil escape, making Wildhive Callow Hall an ideal getaway for those seeking luxury and natural beauty.
Get luxury on a budget at the Borrowfield Lodge
Borrowfield Lodge is a hotel located in the heart of Derby, just a 10-minute drive from Derby Cricket Ground.
The hotel offers a range of comfortable and spacious rooms, each equipped with modern amenities such as Wi-Fi and flat-screen TVs.
Guests can enjoy a hearty breakfast in the hotel's dining area each morning, or relax with a drink in the lounge bar.
The hotel also offers 24-hour front desk services, making it easy for guests to check in and check out at any time.
The Lodge is conveniently located close to a number of local attractions, including museums, galleries, and shopping centres.
Borrowfield Lodge provides a comfortable and convenient base for guests visiting the Derby area, with its convenient location and fantastic facilities, it's the perfect way to enhance your event experience.
Have an amazing outdoors experience at the Morley Hayes Hotel
Morley Hayes Hotel is a luxurious hotel and golf resort located just outside of Derby. With its picturesque countryside setting, the hotel offers a serene escape from the hustle and bustle of city life.
The hotel features stylish and spacious rooms, complete with modern amenities and comfortable furnishings.
The resort also boasts two acclaimed restaurants, offering gourmet cuisine and a relaxed dining experience.
In addition, the hotel has two challenging golf courses, a health club and spa, and a range of conference facilities, making it an ideal destination for both leisure and business travellers.
The hotel's location in the countryside also makes it a popular choice for outdoor activities such as fishing, and hiking.
With its warm hospitality, elegant design, and extensive range of activities, Morley Hayes Hotel is a perfect destination for any visit to Derby.
Concerts at Derby Cricket Ground in 2023
The Who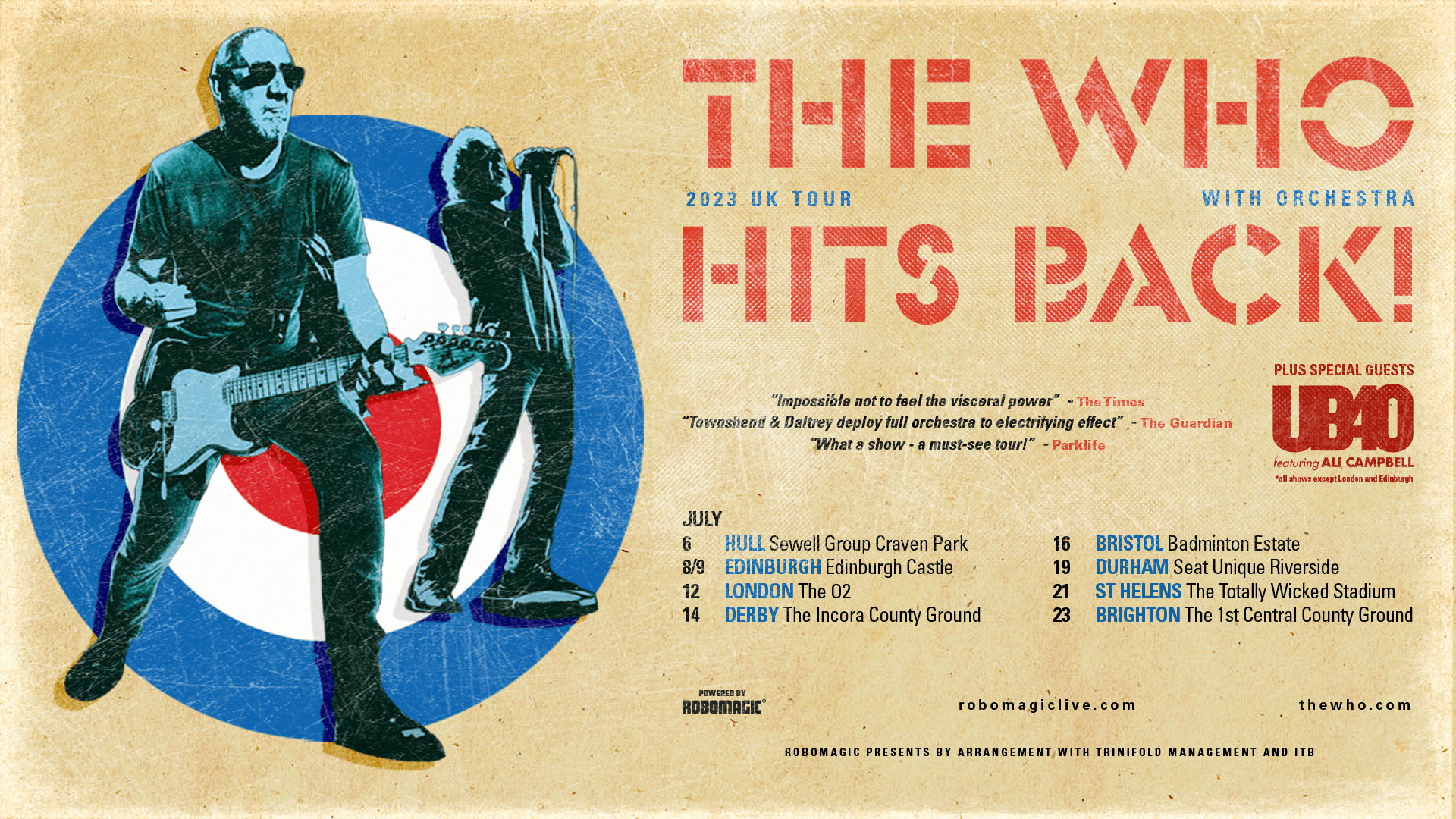 In July 2023, legendary UK rock icons The Who will perform at the Incora County Ground as part of their ongoing "The Who Hits Back!" tour.
The English music pioneers, formed in 1963 in London, revolutionized the music industry with their innovations, including the Marshall Stack, synthesizers, and rock opera. Their impact can be seen in various genres, such as punk rock, power pop, and mod.
The band have sold over 100 million records worldwide and were inducted into the Rock & Roll Hall of Fame in 1990.
The Derby show follows the band's North American tour in 2022, where they performed 29 shows starting in Florida and ending in Nevada.
You can experience a fantastic night of music from the best seats in the house, as The Who play their impressive collection of hit songs, including 'My Generation', 'Baba O'Riley' and 'I Can See For Miles'.
VIP and hospitality tickets for this momentous event will be available for purchase on February 3rd at 10 AM. Secure your tickets through Seat Unique and don't miss out on a night with one of the UK's most iconic bands.
Register interest in The Who - Derby VIP tickets
Sports events at Derby Cricket Ground in 2023
Derbyshire CCC
Derbyshire County Cricket Club, also known as The Falcons, have played their home matches at the Derby Cricket Ground since 1871.
Established in 1870, Derby CCC is one of the 18 first-class cricket clubs competing in the County Championship, One Day Cup, and Vitality T20 Blast.
The club has won a number of prestigious honours since its conception, including a County Championship title. The Full list of honours is as follows:
County Championship (1) – 1936
Division Two (1) – 2012
Natwest Pro 40 League (1) – 1990
Friends Provident Trophy (1) – 1981
Benson & Hedges Cup (1) – 1993
You can watch The Falcons play all of their Vitality T20 Blast matches from the best seats in the house with a VIP hospitality package from Seat Unique.
You will also benefit from luxury inclusions such as access to VIP lounges, delicious freshly cooked meals, and complimentary gifts.
Tickets are available to purchase now and start from £95 per person + VAT. Get yours now from our website for a fantastic day of T20 cricket action.
Buy Derbyshire CCC hospitality tickets
---
If you're a fan of rock music, legendary UK rock band The Who will be hitting the stage at Derby's Incora County Ground in 2023 for a huge night of their greatest hits. Check out our website to register your interest in The Who VIP tickets.