Forest Green Rovers' New Stadium: Sustainability at the Core
Scroll Down
Hear from the team at Forest Green Rovers to discover how the club is pushing for sustainability through its core initiatives and new stadium plans.
In 2017, FIFA described Forest Green Rovers as the greenest football club in the world. This comes as no surprise, as Forest Green Rovers has sustainability at its very core, and pursues a number of key initiatives to push for environmental consciousness in the sports space.
Now, the club is working on an exciting project which will see them build their new stadium, and the world's first timber stadium.
As Forest Green Rovers' official Hospitality Sales Partner, we spoke to the club's Sustainability Lead to give you an insight into the new stadium and their commitment to sustainability.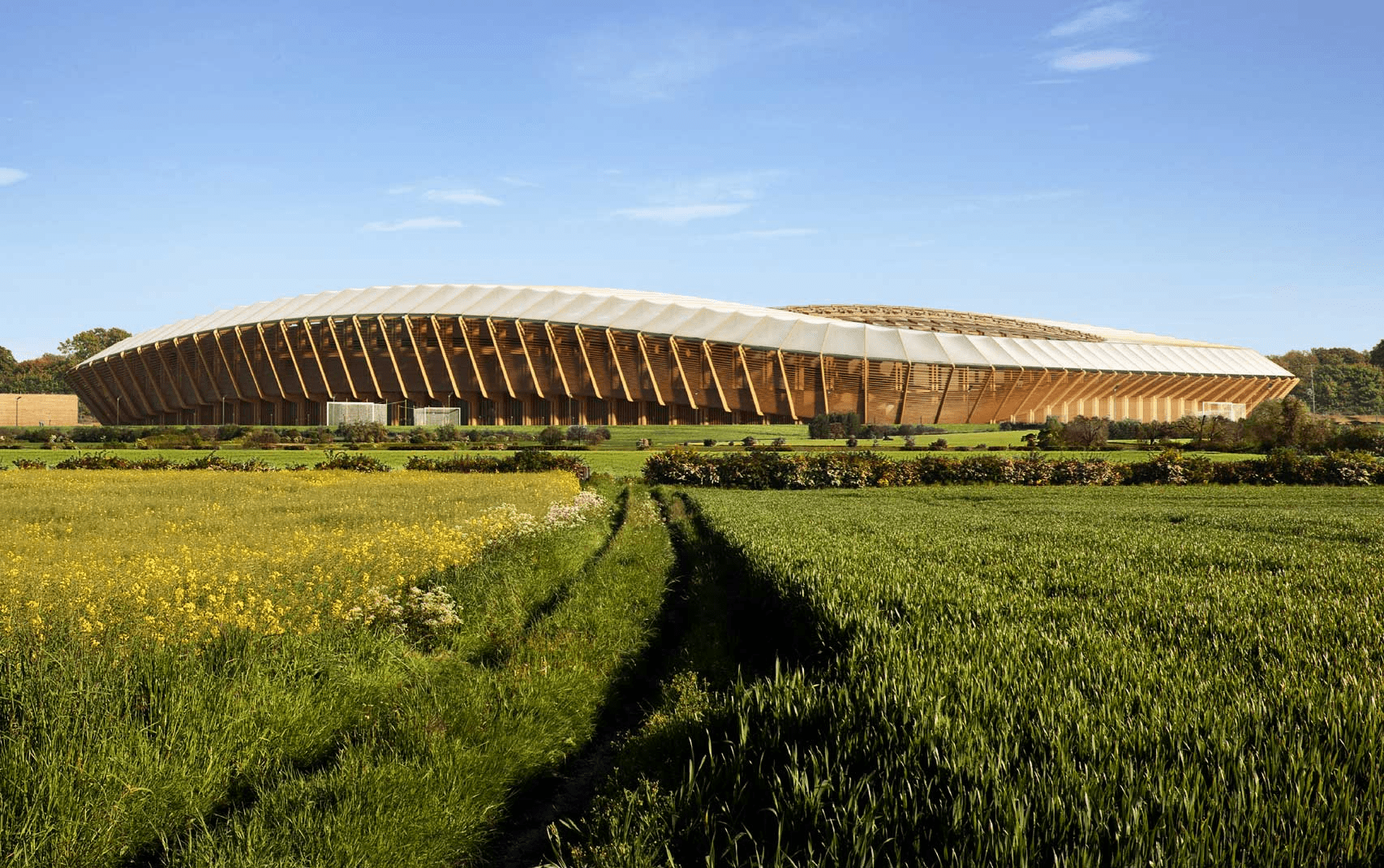 "Sustainability and football are two words that you don't normally expect to see in the same sentence, but we saw it as an opportunity to bring together all of the things that we'd learned in the Green Britain Group of companies during the previous decade and a half. It provided us with an opportunity to show folk that there's another way of doing things -  a way with a lower environmental impact."
Eco Park - Forest Green Rovers' New Stadium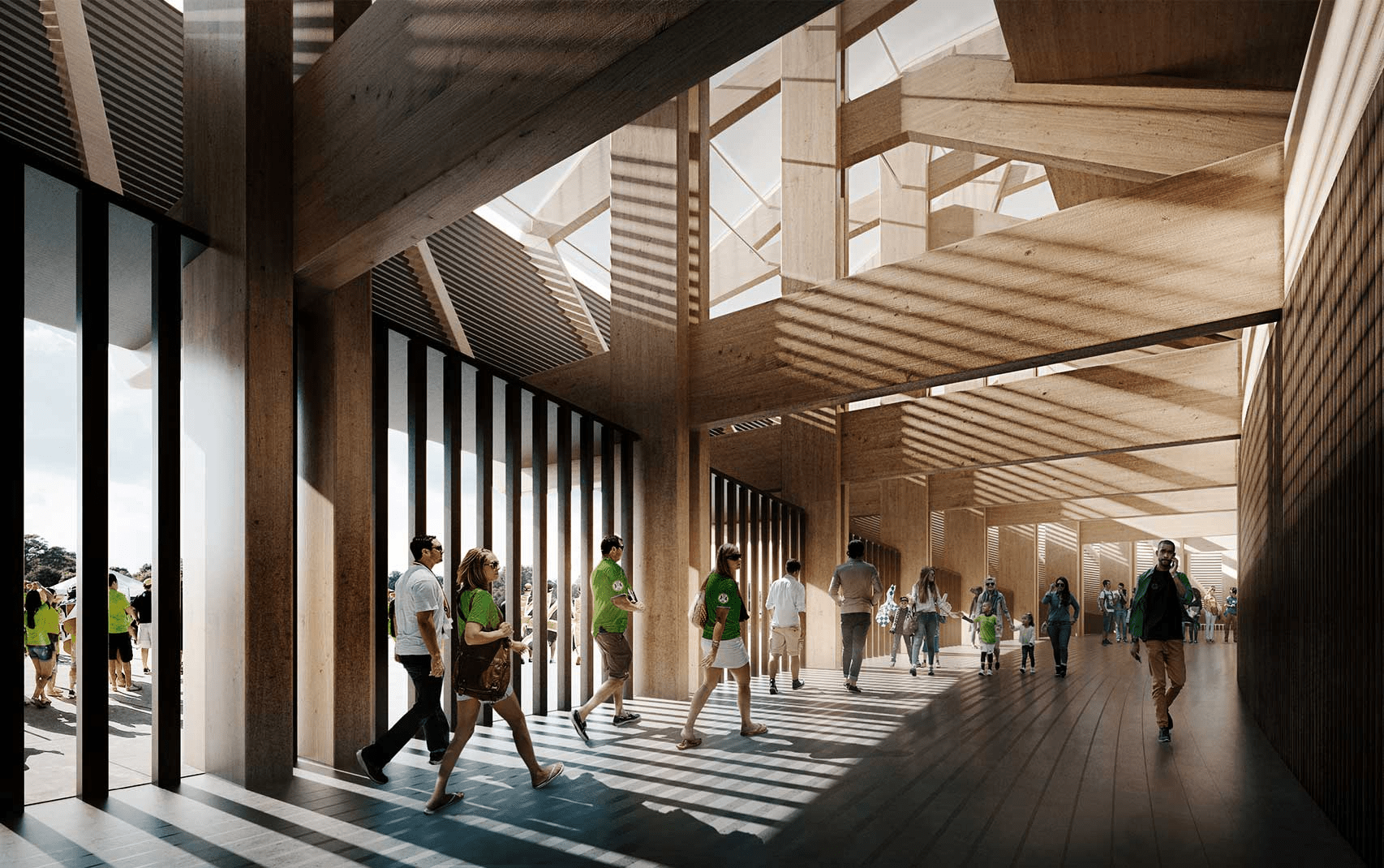 Forest Green Rovers have set out to build their new stadium Eco Park; it plans to be the world's greenest stadium and will have the lowest carbon footprint of any football stadium in the world.
The club told us that their "next venture is to start from scratch, building a whole new stadium big enough to meet our future needs, it's going to be the only one in the world constructed from wood rather than concrete and will be a showcase for sustainable stadiums in the 21st Century."
Eco Park will be located within a beautifully landscaped parkland with around 500 trees and 1.8km of hedgerows that will promote biodiversity. The stadium will be built in Eastington and the club plans to subsidise match day buses from key surrounding areas to reduce emissions produced by transport to and from the venue.
Additionally, the stadium will hold 5,000 seats for fans and will include two additional football pitches, one of which will have an all-weather 4G surface.
The club's current home, The New Lawn, is set to be used as a site for low-carbon housing. This will provide much-needed new homes in the area while the design will centre around sustainability, open spaces and greenery.
Managing The New Lawn

While we excitedly await Forest Green Rovers' new stadium, you can enjoy the club's commitment to sustainability at its current venue.
We asked Forest Green Rovers about their sustainability methods at The New Lawn. They told us that "Right next to the entrance there are solar panels providing ~20% of our power needs, next to a toilet block that filters and cleans the water for pitch irrigation and charge points for anyone coming to a match in an EV."
The New Lawn features an organic pitch that cleverly captures and recycles rainwater for irrigation, reducing the club's usage of tap water. A new process also sees the away fans' toilet water cleaned and pumped back onto the pitch.
Meanwhile, the pitch border is regularly maintained (without chemicals), and planted with wildflowers to encourage pollinator activity.
Travel Emissions
Due to the nature of football, both teams and fans often have to travel for matches. Therefore, Forest Green Rovers works hard to reduce its carbon footprint through initiatives including an electric coach for the First Team, and an electric minibus for Academy players.
Food and Waste Methods
Forest Green Rovers is famous for being a vegan club. The players are vegan and the club works with local brands and international names including Quorn and Oatly to deliver vegan matchday food options to fans.
FGR told us that "We are the only football club certified by the Vegan Society and reducing the food miles in our supply chain is important too, even our world-famous FGR burgers are made in our factory 2 miles down the road."
"Being a vegan club is one of the things that we are best known for at FGR, making that change has brought a mass of media attention which is great for us as it means that we've been able to bring these issues to peoples' attentions – that the small decisions that we make every day have huge impacts on the world around us.
In addition to working with some big brands like Quorn, Oatly and Brew Dog we don't forget our local supply chain, sourcing all of our fresh produce from local suppliers, even our wine comes from a company based 5 miles from the ground."
Furthermore, the club's passion for protecting the ocean from plastic means that they avoid single-use plastic. They told us that "This year we've introduced a reusable cup and food tray system across the whole site, so no disposables anymore for us which is unique for a larger venue."
If you would like to see the team play at upcoming matches at The New Lawn, you can experience the best of the action from premium seats, and enjoy the delicious vegan hospitality offerings for yourself by booking an official package at Seat Unique.
Buy Forest Green Rovers hospitality
---
We are excited to see what the future holds at Forest Green Rovers' Eco Park, and look forward to seeing the venue continue to promote sustainability and environmental initiatives in the sports space.
Interested in green venues? Check out our blog on Coop Live's sustainability initiatives for more information on Manchester's newest venue.